Work attire. What a phrase. If it makes you cringe slightly, then you're not alone. Finding clothing that's professional and still lets you feel like yourself —work-safe style, we'll call it—can be super tricky. Oftentimes we end up sticking with boring slacks and button-down tops because dressing for your 9-5 isn't always inspiring. Today, though, we're going to look at how a few thrifty shoppers infused their work-wears and environment with touches of their own personality to brighten up the daily grind. So, go punch in and grab your coffee…let's get to work!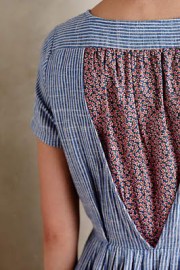 Image via livegivelove1.blogspot.com
Lately while shopping, I've seen a ton of different cut-out pieces on the racks. Sweaters with their shoulders missing, pants with mesh panels… I like how edgy and fun these items can be, but there's no way I could wear them to my office. Thankfully, my favorite cut-out top variation (a triangular opening at the back) can be modified for a modest work environment. Thanks to Goodwill Industries of Northwest North Carolina (Winston-Salem) for sharing this idea on their Upcycled Fashion & Sewing pinboard! You can see here how easy it would be to lay some coordinating material for coverage under the opening of a cut-out top. Choose two fabrics that are a natural fit together and no one will know the blouse wasn't bought that way! With this hack in mind, I think I'm about ready to run to my closest Goodwill to look for cut-out pieces that will shake up my work wardrobe.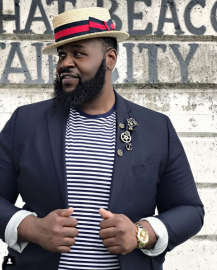 Image via instagram.com/thebigfashionguy
Then there are the really great staples, like blazers, that you can't go wrong with. They can complete a pantsuit, compliment a pencil skirt, or top off a fluttery dress. I find blazers in spades at every Goodwill location I stop into. But they're so classic—can ever be seen as unique? Yes! Michael-Anthony (aka The Big Fashion Guy) shows us how: with accessories, of course! This dapper gent has so much fun styling his lapels with pins, boutonnieres and collar chains to give basic business attire a huge dose of personality. He loves to shop at and donate to Goodwill because he knows that every 23 seconds of every business day, a person served by Goodwill earns a good job. Every second of every day, another person accesses Goodwill opportunities to build careers and strong families. Browse through Michael-Anthony's Instagram feed to learn some of his thrifting tips and see the stylish looks he puts together.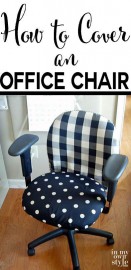 Image via inmyownstyle.com
I don't know if I'm alone in this, but I always feel readier to work when my surroundings are uncluttered and, dare I say, cute? If the personalization of your work environment stops at framed photos on your desk, then I've got something really fun for you; office chair covers! This idea, shared by Goodwill of the Olympics and Rainier region on their DIY Projects pinboard, is not as hard as it looks! The top section is just a slip-cover, so it would be super easy to add and remove. Although the bottom is stapled in place on this particular chair, you could use a drawstring to cinch your own closed instead. As someone who can be a little on the clumsy side, I love the idea of being able to throw this cover quickly in the wash if I drip coffee or get a pen blotch on my seat. Pretty and practical…what's better than that?
So, with these work-safe style ideas in mind, are you excited to go to work on Monday? No? Well, at least you can have a productive weekend fixing up your Goodwill finds to perfectly suit your personality.