Fiber arts such as macramé, knitting, and crochet have long been popular among crafters, but over the past few years they've been spotted more and more even outside of artsy folks' homes. Want to bring this unique mood and pleasing texture to your castle or closet? The great news is that you don't actually have to know how to crochet to cash in on this boho-chic feeling—just scope out your local Goodwill for handmade pieces that others have done and turn them into your own perfect accessories!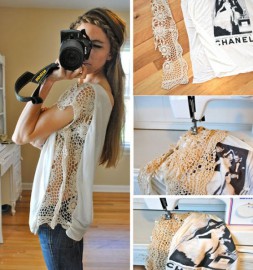 Image via trashtocouture.com
That's exactly what the smart lady pictured here did. She quickly stitched some tattered old crocheted pieces along the sides of a trimmed tee-shirt. I love the way it makes the top feel dressier while maintaining a casual comfort. This would be the perfect fix for any shirt that had armpit stains, wear on the sides, or if it was thrifted in the wrong size! When you personalize your thrift store finds like this, you know you'll never show up to a party with the same shirt as anyone else. Thanks to Goodwill of the Olympics and Rainier Region (Tacoma) for sharing this cool (both literally and figuratively) customized shirt on their Goodwill Fashion pinboard. Make sure you check that board out for more great ideas before your next thrifting trip!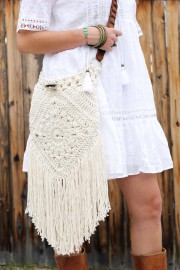 Image via makeanddocrew.com
Of course, it doesn't hurt if you do know how to crochet (or if you decide you're going to learn)! Picking up this fun skill is the perfect pastime for the chilly autumn days ahead plus you can whip out boss accessories like this bag made by Jess of Make & Do Crew. The long, draping ends that cascade down from this purse remind me of the macramé and woven wall hangings I've been fawning over lately so I know I'd be proud to carry it around. If you like this look as much as I do, head over to Jess's blog to grab the pattern for free! And don't forget to swing by Goodwill first for supplies. The leather strap pictured here was actually a belt that the blogger found in her local Goodwill shop. It's just so perfect on the bag I never would have guessed at its secret history.

Image via goodwillncw.org
Depending on which store is closest to you, you may even be able to find recycled tee-shirt yarn  to work with on your next project. Goodwill organizations function as social enterprises by creating an average of 25 jobs per brick-and-mortar store, generating essential revenue for mission services, and providing a direct solution for donors and communities to the issue of sustainability regarding unwanted goods. Here's the perfect example of that sustainability: Goodwill Industries of North Central Wisconsin, Inc. (Menasha) is turning the tee-shirts that don't sell in their stores into colorful fiber that, with a little knit, crochet, or macramé know-how, can accent home decor and stylish accessories. Does your local Goodwill sell these?
There are really so many ways you could use the skill of crochet to weave texture into your wardrobe or housewares. This tee-shirt update and bag are just starters! Once you've mastered the basics, move on to making rugs, pillow covers, baskets, or floor poofs! With the right supplies and inspiration, the possibilities are endless.