Halloween is like Christmas for thrift store lovers like me. It's the one time of year we all get permission to get be as creative, bold, and funny as we can be– and the abundant candy this time of year is just an added sugar-high bonus. When I was a kid digging through my pillowcase full of hard-earned sweets on the living room floor, I would already be imagining the possibilities for my costume for the next year's festivities.
As an adult? Well, I have some distractions that make me notoriously last-minute when it comes to planning and prep. So I've put together a short list of some quick, creative things you have a pretty good chance of finding at a thrift store, or may even already have in your closet– that need no more work to put together than put on your body– or maybe a little black sharpie– to pull off in time for your first trick-or-treater.
SMOKEY BEAR
This was a costume I threw together for my son when he was 2. A few days before his daycare costume and starting to panic, I stumbled onto a brown National Parks Service souvenir hat and a box of black letter stickers at a local Goodwill. We already had a brown fleece jumper and jeans at home, so I had an idea to put it together and make the most serendipitously cute costume that ever happened. After grabbing a white ribbon I had in my recycled gift wrap stash and a toy shovel from his sandbox –VOILA– MAGIC!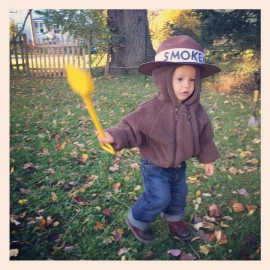 Credit: Jenna Pfueller
Dirty Dancing (Couples)
Recreate that iconic final scene between Johnny and Baby with classic and easy-to-find pieces and you'll be partying like it's 1987. Pink tank top, pink skirt, heels for Baby and a tight black tee or button up and jeans for Johnny, it seems nearly impossible that you don't own something for this costume already. Just remember, lift with the knees!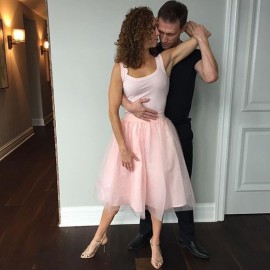 Credit: @laurenbolshakovart
Iron Chef
Hey, I'm a fan of smart humor, so this costume is a fun way to keep your friends guessing without a whole lot of effort. If you don't want to carry around a heavy iron all night while you're dancing your socks off (or sending your kid out to trick-or-treat), you can also write the periodic table's symbol for the element iron, or 'Fe,' on the apron or chef's hat in black sharpie.  Top if off with any toy foods or stuffed farm animals you may have lying around your kids playroom to make an excellent accent and make that costume SO next level.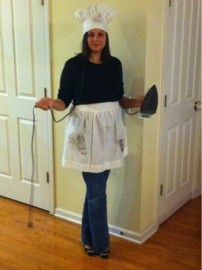 Credit: http://thriftywithtriplets.blogspot.com
Need a place to show off all that last minute, low-budget amazingness that you put together? Goodwill has you covered there, too. For years, Goodwill Northern New England's annual Ghoulwill Ball has provided the perfect way to enjoy that thrifty costume while helping people find jobs through their workforce programs. In 2017, Goodwill's network of 161 organizations helped 288,000 people in the US and Canada prepare for new jobs or career advancement. What a great way to celebrate Halloween in a way that helps the earth, the community, and gives even you the chance to recreate that famous Dirty Dancing lift in front of your friends under the spotlight!