I think it's pretty common for people to shop by color. Since my local Goodwill stores tend to display clothing as a rainbow, I usually gravitate toward the sections with my favorite hues. Sadly, that completely limits my shopping experience! How many would-be-favorites have I passed by simply because I am forgetting about the magic of dye? Well, today we'll be looking at some beautiful (and easy) updates that other thrifty crafters have completed. They're inspiring me to be color-blind while shopping and to embrace the unknown in a vivid dyeing adventure.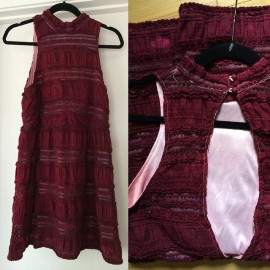 Image via goodwillcentraltexas.org
On Goodwill Industries of Central Texas (Austin)'s blog, crafty gal Melissa Massello shares the quick and easy transformation of a few of her no-longer-white thrifted finds. With just ten minutes of work, she hides old stains and dingy fabric under a gloriously rich wine-colored dye. Don't forget that each type of fiber takes dye differently so even when you add multiple items to the same pot, each one still creates a totally unique look. Just on this one dress, the polyester lining gained a blush pink tone while the lacy top layer became a beautiful merlot. This color change completely alters the mood of the dress, too, don't you think? When you customize pieces to your favorite color, it's a guarantee that you'll never show up to a party wearing the same thing as someone else!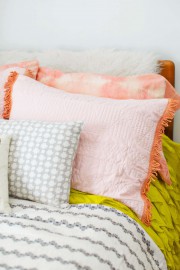 Image via abeautifulmess.com
But dye works on so much more than just clothing, of course! The moment I set eyes on these gorgeous pillows that Rachel Denbow created for the blog A Beautiful Mess, I was smitten. For those who enjoy keeping a low environmental impact, her tutorial shares tips and instruction on using a beautiful natural dye. As she notes in the post, pots and utensils that are used for dyeing will no longer be food safe. So, instead of ruining your current cooking gear, grab what you need from Goodwill before you start. You'll be able to find pots, utensils, pillow cases, and embellishments all in one place. Keeping those second-hand goodies out of the landfill and using non-toxic dye means that you're definitely doing your part to keep our Earth healthy. Goodwill is doing their part, too! In fact, Goodwill organizations serve as sustainability innovators by harnessing renewable energy, from installing solar panels on their roofs to becoming LEED certified. Every little bit helps, right?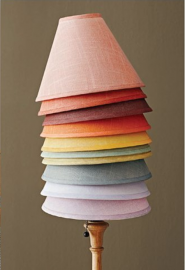 Image via better homes & gardens
Okay, back to dye! This lampshade rainbow was shared on Goodwill Industries of New Mexico (Albuquerque)'s DIY Pinboard and it's such an inspiration. Doesn't it seem like most of the lampshades you see in stores are either too boring (just plain white) or too over-the-top (loud psychedelic patterns)? The colorful shades in the picture above are the perfect middle ground for me. Experimenting with different colors in this way would be so fun and since you're not paying an arm and a leg for thrifted lampshades, you can afford to learn dyeing techniques by trial and error. Just keep playing around until you find your own perfect hue! There are no limits when you're making your own decor.
What else could we dye? Pants, rugs, towels, or bags? The next time you head into your local Goodwill store, make it a point to imagine all of the colorful possibilities. Have fun!