Life is colorful! One thing that really bums me out about shopping at the mall or in big-box stores is that everything is so seasonal that it can sometimes be hard for me to find the colors I want. I usually have to wait until spring to shop for pastels and I bet earth-tone lovers are most likely to find their favorite-colored clothing in the fall. Over the years, I've noticed that shopping at Goodwill is one way to enjoy every hue imaginable no matter the time of year. It's fun and practical to dress seasonally, of course, but sometimes the dreariest of days can only be brightened by out-of-season shades. So today I'm going to celebrate some fun rainbow thrift store finds that can cheer up their owners' closets no matter the season!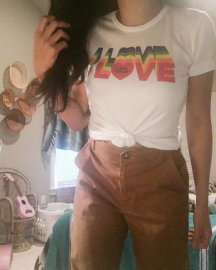 Image via instagram.com/homeofopalrain
I've never personally been to Lake Tahoe, so I'm only guessing that I would love it. But, I can confirm that I adore this rainbow-lettered "I Love Lake Tahoe" shirt that Instagrammer Home of Opal Rain found at her local Goodwill store. Tees knotted above high-waisted pants will always be a stylish choice, in my opinion, and I can't help but think the positivity of this shirt has helped her sunny outlook in the photo's caption, too. For thrifters who have been to a specific tourist destination, stumbling upon a souvenir such as this unexpectedly at Goodwill would be a delight. Even those of us who haven't traveled to the noted location can appreciate the appeal of destinations far away, especially when the souvenir's design catches every color in the spectrum!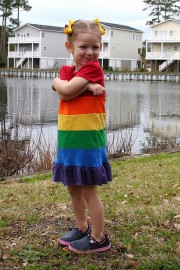 Image via nancyscouture.blogspot.com
For cuties who want even more color, there's also the option of crafting your own rainbow look from thrifted finds. Just check out this DIY dress shared on Pinterest by Goodwill Industries of Northern Illinois and Wisconsin Stateline Area, Inc. (Rockford). The bright frock was made fairly simply from six plain colored tee-shirts. As long as the top shirt fits its wearer and the others are that size or bigger, the dress will come together with relative ease. I could see this idea being used as the basis for a Halloween costume, too… October isn't far off now, is it? Click through for the full tutorial and more DIY ideas.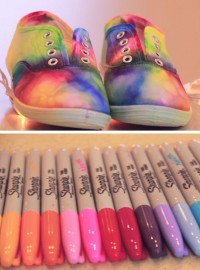 Image via pinterest.com/goodwillwm
Or, if you seek a more organic-looking version of the rainbow, you could try this faux tie-dye method that was shared on Pinterest by Goodwill Industries of West Michigan, Inc. (Muskegon). Look for some plain canvas shoes while you're out thrifting then put your Sharpie collection to good use on these colorful kicks. Happy feet, indeed! This is a project even kiddos could tackle making it a fun family activity for a rainy afternoon. And, if that's the case, keep your eye on the sky for some real-life inspiration! Find out how to do this yourself by clicking through for instructions (and more crafting ideas).
Goodwill is proud to be recognized by GuideStar with its Platinum Seal of Approval, the organization's highest rating for charities which, on top of a colorful selection year-round, is yet another wonderful reason to shop at Goodwill stores. With its broad spectrum of ever-changing stock, Goodwill doesn't limit your shopping experience to just what's seasonally relevant. After all, color and diversity are what make the world beautiful!