In the past, green was not a color that typically found its way into my closet. This year, though, I've been snatching up frocks, pants, and tops in a marvelously neutral olive hue at an unstoppable rate. How has it taken me so many years to realize that this color all at once matches the earthiness of browns, brightens up black, and adds depth to white and gray ensembles? Let's call it Switzerland because with so much versatility, olive green has definitely made its way over to neutral territory in my opinion.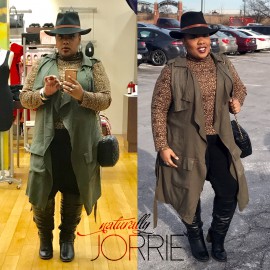 Image via naturallyjorrie.com
What makes a color neutral? Its main quality would need to be the ability to act in a grounding way. A neutral needs to complement almost every other tone and work to balance out loud prints or colors. This is exemplified by the way blogger behind Naturally Jorrie used this olive green draping duster vest to top off her loud leopard print shirt. Since this shade perfectly matches both black and brown, it really elevates her style. The next time you're walking the aisles of your local Goodwill, keep an eye out for this new neutral hue. You'll make a difference by becoming a Goodwill community partner while at the same time adding some truly adaptable attire to your wardrobe.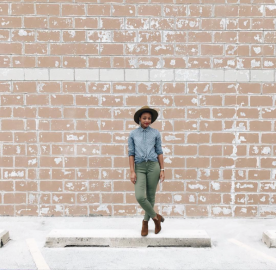 Image via instagram.com/currentlykherington
You may be tempted to scold me for even bringing this up, but do you ever get sick of jeans? I'm a jeans girl through and through, but there are days that I want that same ready-for-anything vibe that denim provides without a boring blue. Olive green pants to the rescue! Style consultant Kherington, pictured above, knows exactly what I'm talking about. In this photo shared on Goodwill Industries of Greater Grand Rapids, Inc. (Grandville)'s Instagram, she balances olive green trousers and a polka dotted chambray with perfect-for-fall accessories. Had she paired this top with jeans, the outfit would have blended right together drawing focus from the individual pieces. These pants offer the utility and neutrality of denim, but bring in a little variety. What a stylish and practical everyday look!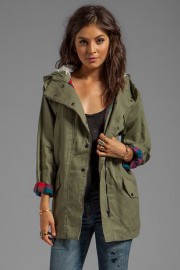 Image via revolve.com
So, olive green works for tops. It works for bottoms. What about outerwear? The issue with jackets and coats is that since you don't wear them year-round, your best buys will be the ones that are the most versatile. Unlike your daily attire, the last layer you throw on before heading out into the cold has to adapt like a chameleon to match a variety of different looks. A jacket like this one shared by Chattanooga Goodwill Industries, Inc. on their Coats and Jackets pinboard is perfect! On top of its neutral color, the style itself can shift to match many outfits. Unzipped with sleeves rolled, the relaxed feel is ideal for a casual fall day. You could also unroll those sleeves and zip it up for a more fitted look over a lacy dress with heels. And, once again, olive green covers every base seasonally so the color looks appropriate on cool, rainy days in the summer and with layers in the dead of winter.
Do you agree? Is olive green really the new neutral? I'll let you be the judge. Just promise me you'll give it a decent shot the next time you step into the fitting room. I think you'll be pleasantly surprised!