Let's be real– summer is all about color. Many, many colors. Preferably worn all together, all the time. It's also PRIDE month, so I have rainbows on my mind. It's a perfect time to talk ROY-G-BIV.
I've always been a fan of wearing bright things whenever possible. Rainbow are always in, but bold color combos never go out of style either. Year round is best, but summer is prime color time. It's the best pick-me-up you probably already own. It's a conversation starter. It's a statement to the world that color is king, and it's easy to do. It's my favorite way to subtly give the all-black outfit wearing types a piece of my mind.
Say it with me now– NO COLOR LEFT BEHIND! My thrifty gal Hannah here gets it. Love this look she put together from her local Goodwill®. The dress is the perfect length to be easily adaptable for winter with tights, too. SWOON!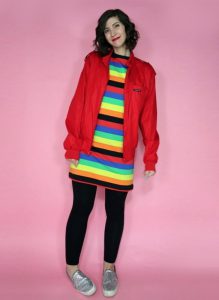 Photo by @hannah_rupp
I think my favorite bright color combo in summer is a mashup of turquoise and red– there's something so fresh and bold about those two hues put together. Quite honestly, if you don't own a pair of red pants right now, that needs to be resolved ASAP. Pam here pulls it off perfectly, and throws in a floral pattern and a textured purse. BLAM! She knocks the breezy summer look out of the park!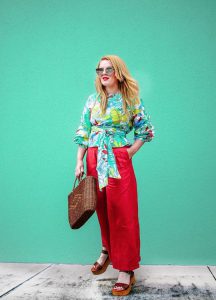 If you need some inspiration on what to look for in your localGoodwill this summer, join in on this fun little thrift-a-long with DIY Darrling, who takes us along for the ride on her search for warm weather essentials.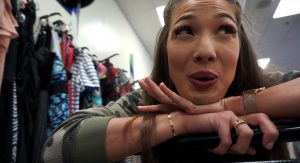 Photo by DIY Darrling
Not sure you've got a total handle on what bright colors might go well together? Check out a trusty color wheel and get some color combo ideas for your next thrifty adventure. Maybe you'll look in the color sections you've been wheeling past without a thought all this time, and find the treasure you never knew you needed!
There's nothing better than a colorful summer wardrobe, or that feeling you get from helping create stronger communities through your purchases at Goodwill. Make your summer stylish and sustainable by shopping at your local Goodwill today!