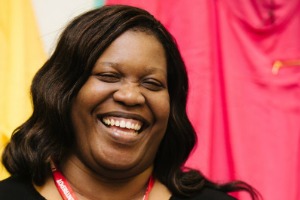 I worked for twenty years in my family's restaurant in Haiti, where I am born. After the earthquake in 2010, I and my two children were part of the humanitarian sponsorship program instituted by the Canadian government.
Upon my arrival, I was warmly welcomed, but I then had to wait for months for my work permit. I registered with a placement agency which could only find me temporary work. An agent of Emploi-Québec spoke to my about Goodwill Renaissance Montreal.
I really liked my training as a sales clerk-sorter-cashier at Goodwill Renaissance Montreal. I was a bit unsure of myself when I first started to work at the cash, but with encouragement from my trainer and the whole team, I managed to overcome my fear.
Today, I work as a sales clerk-cashier at L'Aubainerie at Galeries des Sources in Dollard-des-Ormeaux.  I am more optimistic about the future. I can see what I am capable of, and I am well on the way to following my path in life. I am autonomous; I pay my bills, I can meet my children's needs and spoil them. I feel proud!