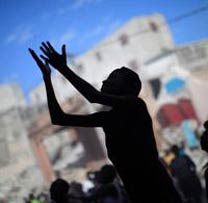 The rebuilding continues in Haiti as the people there struggle to recover from the worst earthquakes that have hit their country in more than 200 years. Aid continues to pour into the country and is increasingly reaching those in need. Despite huge challenges, humanitarian access is improving daily.
U.S. nonprofit humanitarian and development organizations have collectively received an outpouring of donations totaling $350 million and counting. These organizations have several thousand staff on the ground responding to needs.
InterAction, a coalition of U.S.-based international non-governmental organizations (NGOs), has launched the Haiti Earthquake Relief Barometer, which will tally the aggregate of private donations to relief organizations on a weekly basis. In addition to the barometer, InterAction has developed an NGO Impact in Haiti Factsheet to offer specific details about the scope of organizations' work in Haiti.
The caring people that work at 164 member Goodwill enterprises in the United States and Canada, as well as 13 other countries, send their thoughts and prayers to the people of Haiti, and some local Goodwill agencies in the United States are aiding in the effort by partnering with other disaster relief organizations to assist in providing relief services:
In Portland, OR, Goodwill Industries of the Columbia Willamette is donating $10,000 to "The Haitian Project," a Catholic mission which supports and operates Louverture Cleary School, a tuition-free, secondary boarding school for economically underprivileged Haitian children. The Goodwill has an advisory relationship with The Haitian Project, and will match, dollar for dollar, all donations to the effort  by its more than 1,800 employees in Northwest Oregon and Southwest Washington.
Goodwill Industries of Greater NY and Northern NJ (Astoria) has created a Haitian Relief Fund, which is directly supporting the American Red Cross and Doctors without Borders. Online contributions will be split evenly between the two organizations.
Goodwill Industries of Kanawha Valley (Charleston, WV) donated $5,000 to the American Red Cross for Haitian Relief.
Goodwill Industries of Monocacy Valley's five retail stores in Frederick and Carroll Counties, MD are now accepting monetary donations, which can be made at any store at the check-out counter. Donors will receive a printed receipt showing their contribution toward this important humanitarian effort, which is being embraced worldwide. For more information about making donations to Haitian relief through the Goodwill stores, visit www.gimv.org, or call (301) 662-0622.

Goodwill Industries of Eastern North Carolina (Durham) has donated $100,000 to North Carolina Baptist Men, a disaster relief organization, which is on the ground in Haiti helping earthquake victims.
Goodwill (serving North Central Wisconsin – Menasha) is raising money for the Red Cross Disaster Relief Fund. Any gifts made or pledged by March 31 by the Goodwill family (all team members, campus partners, board member and program participants) will be matched dollar for dollar by the Goodwill and transferred to the Red Cross for Haitian relief efforts.
Goodwill Industries of South Central California has partnered with other Bakersfield-area agencies and serves as a "Red Cross Donation Center for Haiti Relief Effort," collecting financial donations at all of its Goodwill retail stores and donation centers.
Goodwill Industries of South Florida's (Miami) more than 300 Haitian employees and program participants are living very desperate moments now, as they wait for news from family members in Haiti. Two designated Goodwill locations are serving as Haitian Information and Relief Offices. These offices will continue to monitor and provide updates as news of family members' and their needs arrives. Cash contributions in the Miami area may be made to Operation Hands, a Haitian relief fund coordinated by United Way of Dade County and The Miami Herald newspaper. Call (305) 646-7129 to donate to this fund, which will go directly to help the people in Haiti through reputable organizations already in the ground.
Goodwill Industries of Southwestern Michigan (Kalamazoo) has donated 24 sets of scrubs to nurses and doctors from the area who are on their way to Haiti.
Tacoma Goodwill Industries (WA) is offering its employees an easy way to donate by signing up for automatic payroll deductions during the month of February. The payroll deductions will go directly to the American Red Cross Haiti Relief and Development fund.
Search and rescue and other efforts will continue as long as there is hope. As Goodwill's mission is to generate opportunities for people to achieve economic stability and build strong families and vibrant communities through community-based job training and employment placement programs, we encourage you to contact and support your choice of the following agencies that are providing immediate, broad-based humanitarian relief to the people of Haiti:
American Jewish World Service is collecting donations for its "Haiti Earthquake Relief Fund," which will help "its network of grantees in Haiti to meet the urgent needs of the population based on real-time, on-the-ground assessments."
The American Red Cross is pledging an initial $200,000 to assist communities impacted by the earthquake. The organization expects to provide food, water, temporary shelter, medical services and emotional support. It is accepting donations through its International Response Fund.
Baptist Global Response, which coordinates the mercy efforts of the Southern Baptist Convention, is sending a team from Florida to help its initial outreach. In addition to donations, the organization asks that concerned individuals join in focused prayer for Haiti's nine million people.
The Baptist Haiti Mission is operating an 82-bed hospital that is "overflowing with injured." Donate online and 100 percent of your donation will go to the relief effort.
CARE is deploying emergency team members to Port-au-Prince to assist in recovery efforts. It is focusing its efforts on rescuing children who may still be trapped in schools that collapsed. Donate to CARE.
Catholic Relief Services (CRS) has made an initial commitment of $5 million dollars for immediate use in the relief effort. According to its press release, the CRS offices in Port-au-Prince, Haiti,"were shaken, with some damage to the compound walls, but there were no injuries in the building." Donate to Catholic Relief Services.
Christian Aid Ministries, an Amish-Mennonite organization, has had staff and a distribution network in Haiti for over 20 years. To help earthquake survivors, it is providing search and rescue operations, emergency supplies such as medicines and food, and later on rebuilding of houses. Donations may be made online or by mail through Network for Good.
Donate to the Clinton Bush Haiti Fund, a private fundraising drive for the victims of the Haiti earthquake, created to recognize the tremendous need for immediate relief and long-term recovery of those who are most in need of food, water, shelter, medical care, and support.
Compassion International, the world's largest Christian child development program, serves 64,000 sponsored children in Haiti, most near the earthquake zone. Donate to efforts in Haiti.
Direct Relief is committing up to $1 million in aid for the response and is coordinating with its other in-country partners and colleague organizations. Its partners in Haiti include Partners in Health, St. Damien Children's Hospital, and the Visitation Hospital, which are particularly active in emergency response. Donate to Direct Relief.
Doctors Without Borders is on the ground and has set up clinics to treat injured in Haiti. Donate any amount so it can keep its efforts going.
The Episcopal Diocese of New York, which has Haitian congregations and a partnership with the Episcopal Diocese of Haiti, is collecting aid both through the diocese and through the national organization, Episcopal Relief and Development;
Several of InterAction's 190 member organizations are working to provide humanitarian assistance in Haiti. For more information, e-mail

[email protected]

or

[email protected]

.
International Medical Corps is assembling a team of first responders and resources to provide lifesaving medical care and other emergency services to survivors of the earthquake. Donate online.
The Lutheran Church Missouri Synod along with its mercy arm, LCMS World Relief and Human Care, announced it was making available an initial grant of tens of thousands of dollars to meet emergency needs. Support its efforts by making a donation online.
Mercy Corps is sending a team of emergency responders to assess damage, and seeks to fulfill immediate needs of quake survivors. The agency aided families after earthquakes in Peru in 2007, China and Pakistan in 2008, and Indonesia last year. Donate online.
Operation USA is appealing for donations of funds from the public and corporate donations in bulk for health care materials, water purification supplies and food supplements, which it will ship to the region from its base in the Port of Los Angeles. Learn more and donate online.
Oxfam is sending teams from around the region to provide clean water, shelter and sanitation needed to help people recover. Donate to Oxfam America.
The Pan American Development Foundation is the disaster relief arm of the Organization of American States. They have been in Haiti for over 30 years, and currently have over 150 people on the ground there. Donate online.
Partners in Health reports its Port-au-Prince clinical director, Louise Ivers, has appealed for assistance: "Port-au-Prince is devastated, lot of deaths. SOS. SOS… Temporary field hospital by us at UNDP needs supplies, pain meds, and bandages. Please help us." Donate to Partners in Health.
Quisqueya International Organization Freedom & Development, founded by a former Peace Corps volunteer, is on-the-ground, assisting with relief efforts. Donate online.
The Salvation Army is sending personnel and supplies to assist in the relief effort, and is in need of donations.
Samaritan's Purse, the international aid and development group headed by Rev. Franklin Graham, landed a medical supplies flight with teams of emergency medical workers Wednesday morning and will begin pouring in additional aid as needs become clear.
Save the Children has launched an emergency relief effort for Haiti. Donate to its fund to provide medical attention and clean water to children and families.
Ben Stiller's Stillerstrong campaign will be temporarily diverting all donations to support the Haiti relief effort.
The UN World Food Programme is gathering all available resources to deliver food to the recently homeless and impoverished in Haiti. Donate now to help bring food to those affected as quickly and efficiently as possible.
UNICEF has issued a statement: "Children are always the most vulnerable population in any natural disaster, and UNICEF is there for them." Donate online to UNICEF's Haiti Earthquake Fund.
The United Methodist Committee on Relief  has long been working in Haiti. Donate online.
The United Nations World Food Program has teams "already on the scene, mobilizing emergency food assistance to families." Make a donation to support these emergency efforts.
The United Way is accepting online donations for the United Way Worldwide Disaster Fund, which will directly benefit their relief efforts in Haiti.
World Vision, a Christian humanitarian charity organization, is also working to help children and families devastated by the quake. Learn more about its efforts and donate online.
Donate by phone to Wyclef Jean's foundation, Yele Haiti. Text "Yele" to 501501. Five dollars will be charged to your phone bill and given to relief projects through the organization.
The fastest way to donate may be by sending a text message on your phone. Here are several options:

Global Impact's mobile app at helphaiti.mobi allows donors to give to Global Impact member charities working in Haiti at any amount through mobile devices. Donors can also elect to seek matching donations from their employers as well as receive Haiti-related updates. And unlike text donations, which can take 60 days or longer to be disbursed, donations via the helphaiti.mobi app will be released within days.
USAID lists a number of ways to help the Haitian relief efforts.
NOTE: We will continue to update this page. The best way for you to help right now is to give through one of the organizations above.