GET THE FACTS ABOUT ONLINE RUMORS!
"Think before you donate" and we think you will see why donating to Goodwill® is the right choice. Goodwill is the leading workforce provider in the world, placing someone in a new job every 30 seconds of every business day. Goodwill has a more than 118-year track record in providing services to people going through transition, whether due to military service, lack of education or work experience, mental or physical challenges, or prior incarceration. There are 156 local 501(c)(3) Goodwill organizations in the U.S. and Canada, and a presence in 12 other countries. Goodwill is proud to be recognized by GuideStar with its Platinum Seal of Approval, the highest rating for nonprofit organizations. Goodwill retains the highest ranking by Charity Watch, formerly known as the American Institute of Philanthropy, which provides information about charities' financial efficiency, accountability, governance and fundraising.
Because Goodwill is widely known as a retail entity, there is a lot of misinformation and misrepresentations about our brand. In particular, there is a rumor that has been circulating for over 14 years that insinuates we have an owner by the name of "Mark Curran." As a nonprofit, Goodwill does not have an owner and no one by that name as ever been affiliated with the Goodwill network. Steven Preston is the president and CEO of Goodwill Industries International. Learn more about him.
We know that you want your donations to be used wisely, so here are the facts about Goodwill: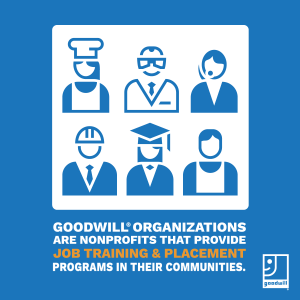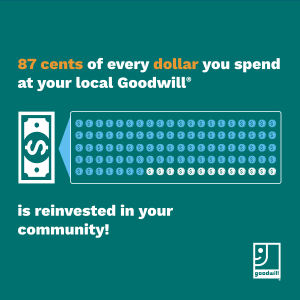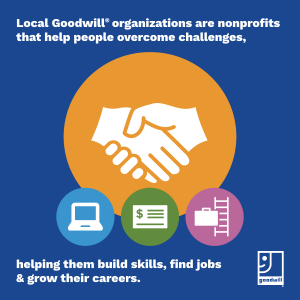 More than 87 percent of collective revenue from the sale of donated goods at Goodwill organizations support and grow their critical community-based programs and services, including job placement and training, credentials and certifications, and support services, such as child care, financial education, mentoring and transportation. This is well above the Better Business Bureau's accountability standards, which require that an organization spend 65 percent of its total expenses on program services.
Last year, more than 230,000 people in the U.S. and Canada connected with jobs or earned employment through career services offered by Goodwill organizations in North America. More than 1.6 million people engaged in face-to-face Goodwill services to build their career and financial assets, and advance in their careers. Additionally, more than 34 million people have accessed Goodwill's mobile and online services, including virtual career fairs and mentoring.

Goodwill operates several dozen adult, charter high schools

called Excel Centers, which

prepare students

with both a

high school diploma and credentials as well as free childcare for adult learners

. These graduates are showing significantly

higher wages

, many are going on to

higher degrees

, and

even their children

are demonstrating improved academic performance.
The Goodwill Digital Career Accelerator®, a first of its kind partnership with Google.org to equip people with digital skills in a changing economy, has engaged nearly 1 million individulas and enables participants to learn

basic online skills

to

coding and cyber security skills

.
Through Goodwill's donated goods operations,

4 billion

pounds of usable goods have been diverted from landfills.
MEET OUR PRESIDENT & CEO
Steven C. Preston
Goodwill Industries International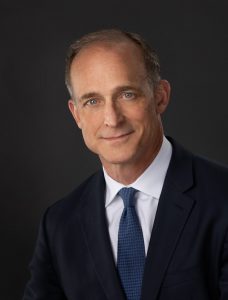 Steven C. Preston is the president and CEO of Goodwill Industries International, a nonprofit social enterprise whose mission is to help people reach their full potential through learning and the power of work. Goodwill serves people going through life transitions, such as military service, loss of job, lack of education or work experience, physical or mental challenges, persistent poverty, or prior incarceration. Goodwill advances its mission through 156 local 501(c)(3) nonprofit organizations, which operate more than more than 3,000 retail stores, perform commercial services, employ more than 130,000 people and manage workforce development, and other support programs.
Preston has served in numerous operational and financial leadership positions in both the private and public sectors. He had led successful turnarounds as the CFO of two private equity-owned companies, headed the Small Business Administration (SBA) and U.S. Department of Housing and Urban Development (HUD) during times of national crisis and served as the CFO of two Fortune 500 companies, Waste Management and ServiceMaster, during times of significant change and restructuring.
Preston graduated with Highest Distinction from Northwestern University and received an MBA from the University of Chicago. He currently serves on the Wheaton College Board of Trustees, the Partnership for Public Service Board of Directors and the Northwestern University Weinberg College Board of Visitors. He has also been active for many years serving organizations that address the needs of both children and adults in underserved areas.
CHANGING LIVES
GET THE FACTS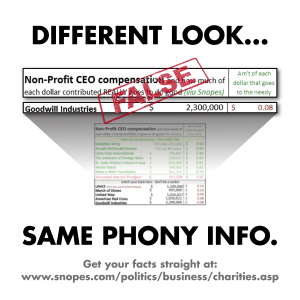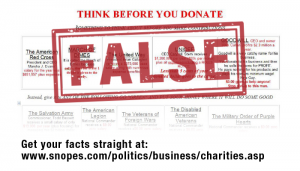 Goodwill definitely encourages you to "think before you donate" — the one legitimate message that this otherwise spurious email contains — and to research and learn more about the charities you'd like to support. Be certain the organization you choose uses its revenue for charitable purposes that support a mission you can get behind. Read more about Goodwill's impact to transform the lives of individuals through our programs.
View Goodwill's feature in the Better Business Bureau trust report.
For more information debunking this hoax email, please visit Politifact and Snopes.com, a website which validates and debunks urban legends, Internet rumors, e-mail forwards, and other stories of unknown or questionable origin.
You can be an advocate for Goodwill. When you hear or read false Internet rumors, please help set the record straight and share this link. Thank you for your support!
DOCUMENTS
We invite you to view our Annual Impact Report, 2019 990, 2019 990-T, 2019 Audited Financials, financial donors and information regarding our Board of Directors.
Find Your Nearest Goodwill Store Today
LAST UPDATED: September 2020