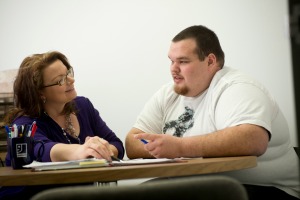 The first time I came to Goodwill Industries of Northeast Indiana (Fort Wayne), I didn't do the work. I just went to get out of the house. I listened, but I didn't do anything that was asked of me. Ask my employment specialist, Katie; she'll tell you. Even though I didn't do the work, Katie helped me get a job, but I didn't like it and I eventually got fired.
Katie was there when I got fired. She even walked me out of the building afterwards. Before she left, she set up an appointment for me to come see her. I didn't go. I didn't go back to Goodwill's employment services until I was broke and had no choice but to go back.
With Katie's help, I landed some temporary jobs, including one with Lowe's where I finally succeeded. I did everything Lowe's asked of me and more. I was a cashier, an unloader and a stocker, but the job was part-time. I'd recently become a father and needed something full-time so I took a job at Shambaugh and Sons doing fire fabrication work. Unfortunately, there were some personnel changes that forced me to leave.
Consequently, I went back to part-time work while I looked for full-time employment. I learned that the local BF Goodrich tire building plant was hiring. It was a great opportunity, so I called up Katie for help, hoping she could help me update my resume and review interviewing skills. She said she was really busy during the coming weeks and wouldn't have time for an appointment for awhile, but if I could be in her office in 20 minutes, she could help me.  I was there in ten.
After numerous interviews at BF Goodrich, I'm now working full-time. I have great benefits and the chance to work overtime. Not only can I provide necessities for my son, I'm now looking for a house that we can call home.