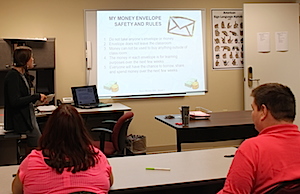 For people with disabilities the transition into independence can be an intimidating process. Goodwill Industries of Southwest Florida (Fort Myers) hopes to make that transition smoother through its new "Pathways to Opportunity" skills training program. The program, which is for adults with physical or intellectual disabilities, launched its 2014 session in July, but the course will be offered year-round.
"We want people to have the skills they need to succeed in all areas of their lives," Program Manager Megan Feeney said. "It's not just about vocational skills, it's about everything."
Pathways to Opportunity features group classes, with a 10:1 ratio, based on a participant's needs and interests. Courses range from money management to relationship building to computer skills to performance arts. The program is part of the Goodwill's commitment to serving people with disabilities by offering life-changing opportunities to achieve independence.
"Pathways will allow participants to explore and find out what they want to do, what they choose to do in life," Pathways Instructor Becky MacKenzie said. "Having the opportunity to try new things is so important." 
Pathways to Opportunity will have its roots at the Goodwill Opportunity Center in Fort Myers. Using three classrooms, including a computer lab and multipurpose room, participants will get a truly hands-on experience.
"When someone with a disability graduates from school, they may still be missing life skills like workplace do's and don'ts," Pathways Instructor Jessica Avalos said. "As a result, you see people go from job to job and they don't know why. This program will help with that."  
The Pathways program plans to expand in 2015 with the growth of Pathways to Work, which will feature job-focused options, and eventually, Pathways to Living, which will assist with independent living and home maintenance skills.