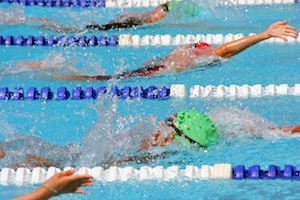 Last month, two Goodwill employees, Garrett Peterson of Goodwill Omaha (NE) and Selina Derungs of Goodwill Industries of Western & Northern Connecticut (Bridgeport), participated in the Special Olympics World Games taking place in Los Angeles, CA. Both athletes went on to win several medals in their respective aquatic events. The event drew 6,500 athletes and 2,000 coaches representing 165 countries, along with approximately 500,000 spectators.
Peterson, who has been swimming with the Special Olympics organization for the past nine years, was coached by professional swimmer Dian Christensen. Beginning in January 2015, he ramped up his training to include four to five practices a week at the YMCA in Fremont, NE. His hard work paid off when he recently earned gold medals in the 400 and 1500-meter races, as well as a silver in the 4×100-meter relay and a fifth-place in the 800-meter race.
He was also chosen to participate in the "im Program", run by Olympic swimmer Michael Phelps. The program works to promote healthy, active lifestyles, especially for children, by expanding their opportunities in the sport of swimming.
Peterson's journey with Goodwill began several years ago when he enrolled in the Omaha Goodwill's Work Experience Program. In 2012, he went on to work at the Goodwill retail/donation/training facility in Fremont as a part-time donation attendant.  Recently, Peterson accomplished another major milestone when he moved out of his parents' home and into an apartment with a friend who is a fellow Special Olympics athlete.
Meanwhile, Derungs, who works as a cashier for her local Goodwill retail store, has been participating in Special Olympics for 21 years and counts her family as her biggest supporters. She won medals in three separate events, including the gold in the 4×100 meter relay. Additionally, she received a bronze in the 200-meter freestyle and a silver in the 100-meter individual medley.
Regarding the opportunity to compete, Derungs told the Hartford Courant, "Just a new experience doing a world event. I did Nationals last year," she said. "Very proud [to represent Connecticut]. It's a good accomplishment."