At the start of the pandemic, Goodwill of Orange County temporarily closed its retail and donation locations to protect employees, customers and the larger Orange County community. When it closed its doors, the Goodwill temporarily lost 99 percent of its revenue stream and was forced to furlough more than 800 workers. Even with its own organization struggling to sustain, the Goodwill's remaining team watched the sudden wave of unemployment and insecurity more than double the need for food banks practically overnight.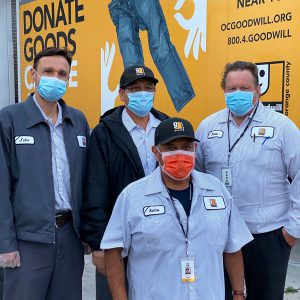 Rather than allow its supply chain assets to idle while stores and donation sites remain closed, Goodwill of Orange County redeployed its truck drivers, trucks, trailers and even warehouse space to aid in critically needed food distribution across the county.
The Goodwill created robust partnerships with both Second Harvest Food Bank of Orange County and Orange County Food Bank to pack and deliver food to those who needed it most throughout the county.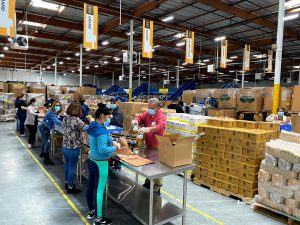 Eight Goodwill of Orange County trucks were on the road every day, holding approximately 40,000 pounds of food and delivering that food to places in need. The partnership continued throughout the first two months of the pandemic, until the Goodwill was able to safely reopen its stores and put its fleet back into its primary use.
Although the trucks are no longer able to distribute food, the Goodwill's partnership with Second Harvest continues in the form of a monthly food distribution held in the parking lot of one of the Goodwill's facilities. During this time, the team provides fresh produce and other essential items to Goodwill team members and their families as well as veterans. On average, the partnership provides 140 households per month with food boxes and more.