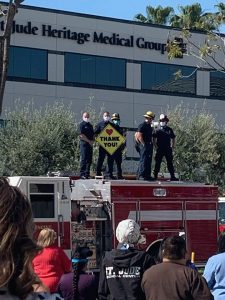 While many of us are working remotely or staying home, at Goodwill of Orange County in Santa Ana, CA, several Goodwill® teams are continuing to work in essential roles throughout the county. The team at St. Jude Medical Center is just one example.
Through Goodwill of Orange County's Supported Employment Program, three Goodwill program participants are working tirelessly to keep the medical center clean. Timothy Douglas, Maria Valenzuela and Nicolas Simunovic, alongside Employment Training Specialist Raquel Sanchez, maintain restrooms throughout the facility, including sweeping, mopping, and ensuring supplies are fully stocked and trash is collected. They perform these duties in all restrooms throughout the facility as well as in some offices.
Last week, the team was recognized for their dedication, even during the pandemic, with an appreciation celebration from local police officers, firefighters and paramedics.
The Supported Employment Program is a service for people with developmental disabilities that provides job preparation and placement services. Mobility training and job coaching services may be provided as recommended and funded by referral sources.
Please join us in applauding the team at St. Jude. Thank you for all you do to care for others!