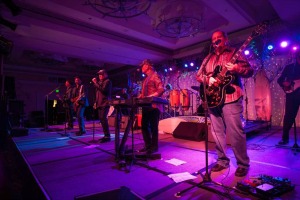 Goodwill of Orange County recently celebrated its 90th anniversary with the help of legendary rock band The Beach Boys and actor John Stamos as guest drummer. The entertainers performed a full set for nearly 600 attendees at the beach-themed Goodwill Gala.
"We were thinking about having a big birthday bash," President and CEO Frank Talarico Jr. said. "We wanted this to be a recurring event and do it in great fashion so people have a heck of a good time, we raise a bunch of money for really important programs and people want to come back next year."
Stamos decided to get involved after learning about the impact the agency has on the community from his sister, Alaina, who is Talarico's wife.
"I always knew Goodwill did good things," Stamos told the Orange County Register. "They're doing a great service for people."
Three key programs are benefiting from funds raised through the Goodwill Gala:
        

Enduring Independence

, a veteran's advocacy program that helps young veterans find employment and transition into civilian life.

        

The Goodwill Fitness Center

, Orange County's only completely accessible fitness center designed specifically for people living with physical disabilities or chronic illness.

         Goodwill's 

Assistive Technology Exchange Center (ATEC)

, a program that helps children and adults living with disabilities reach maximum potential via specialized services and equipment.
A timeline highlighting milestones for Orange County and Goodwill over the past 90 years was displayed at the gala. Guests also had the opportunity to participate in a silent auction featuring luxury items and experiences.
The Goodwill Gala raised more than $400,000. Talarico said that the event will become an annual fundraiser. Find out more in The Orange County Register.