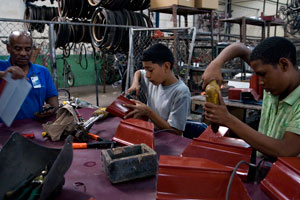 The state of Nebraska has employed the assistance of Nebraska Goodwill agencies for a new four-year state pilot program called GoodHire. Through the initiative, employers will receive up to $4,000 of a workers wages for the first six months of employment if the individual receives welfare benefits. Funding for GoodHire comes from state grants through the state's Department of Health and Human Services, also part of federal Temporary Assistance to Needy Families (TANF).
Justin Dougherty, director of workforce services for Goodwill Omaha (NE) told the Omaha World-Herald that the purpose is to help people who wish to work, who "don't look good on paper" due to an inconsistent work history.
"It creates that incentive to try to encourage investment, but then it steps out in six months and you're back to having the employer and the employee in the marketplace. It doesn't create a long-term dependence on the part of the employer or employee. It is really a jump-start," said Nebraska State Sen. Sue Crawford, who originally proposed the GoodHire initiative in a bill.
Interested applicants will have to participate in the Employment First program, which is currently part of Nebraska's TANF, to become "job ready." Local Goodwills will then connect those who successfully complete the program with a group of employers looking to hire.
Program sponsors hope that the business will keep their new hires on board after the subsidized six month term. The goal is to place 150 people in jobs for each of the four years, with wages averaging a minimum of $10 per hour, for at least 30 hours per week.
"The belief is that once an individual is placed in a position that gives them not only a paycheck but the feeling of working hard, the ability to put food on the table, and the pride that goes with that, the belief is that individual is not going to go back if they can avoid it," said Dougherty.
The state and Goodwill plan to analyze GoodHire's success to determine whether the program will be extended beyond the initial pilot.