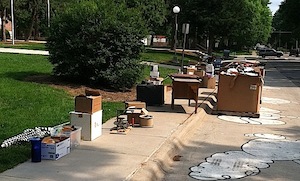 Six Lincoln, NE, neighborhoods donated nearly 18,000 pounds of clothing, furniture and household items to Goodwill Industries Serving Southeast Nebraska during its Neighborhood Challenge this summer. From May 26 to July 6, the Goodwill® hosted a friendly competition to encourage neighborhood associations to donate garage sale leftovers and other household items to Goodwill. The top three neighborhoods received funding for neighborhood-improvement projects.
"We wanted to tie in community involvement with our new donation campaign," said the Goodwill's Communications Director Amanda Herndon. "We thought about how we could help the different neighborhoods to strengthen their communities."
The donation campaign – Donate, Repurpose, Strengthen – reiterates how the Goodwill uses donations to fund programs that help members of the community. The campaign also includes collaborating with other local organizations that serve similar populations, including Heartland Big Brothers Big Sisters, The ARC of Lincoln, Lincoln Literacy.
"Even if a neighborhood didn't participate in the challenge, the awareness helped out," Herndon said. "Being at their meetings and talking about what we did helped them understand our recycling efforts and our programs. They were learning about Goodwill, which was excellent."
Neighborhoods then let the agency know when their annual garage sales were and coordinated to schedule pickups. Neighborhoods that did not have garage sales – or did not have sales during the challenge period – could also schedule general pickups.
The Neighborhood Challenge, and the donation campaign overall, have contributed to increased donations. The top three neighborhoods donated 9,053 pounds, 2,595 pounds and 2,568 pounds respectively. The cash prizes, which came out of the donation campaign budget, will help fund a park revitalization, a new walking path, updated playground equipment, and a community event celebrating the neighborhood's history and diversity.
"This event helped bring our neighborhood together and revive our association," said Danya Krannawitter of the Arnold Heights/Arnold School Neighborhood Advisory Committee. "Winning third place was an unexpected, pleasant surprise!"