By Mary Speed, Digital Media Senior Specialist, Goodwill Industries International
Healthcare workers are fighting a shortage of protective masks, but other personal protective equipment (PPE) items are also in reduced supply, such as scrubs, smocks and face shields. Not having these necessities has been a huge hurdle in battling the coronavirus.
Most local Goodwill® organizations have closed their stores to the public, but they are still actively looking for ways to make a difference in their communities. Goodwill of Western Missouri and Eastern Kansas (MoKan) has stepped in to support its community by providing items that can help. Donated medical scrubs and men's cotton button-down shirts, which can be used as smocks, are being sourced from 14 MoKan Goodwill locations.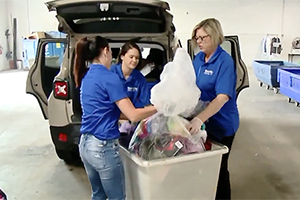 Goodwill MoKan has partnered with an eager and supportive local company, Pride Cleaners, to sanitize and prepare the items. Once they are ready, these donations will be given to healthcare facilities identified by the Kansas City Medical Society and other local healthcare coalitions.
"We get so many donations from the community, and we utilize them in different ways," said Taite Pulliam, with the Goodwill in Olathe. "And being able for everyone to come together and realize we have so much to offer — we have stores with items in it that can be repurposed and used differently."
She said giving back is what it's all about. "I think it's important because Goodwill is known for giving back to the community," she said, "and for us to be able to switch so quickly to helping in a different way during this time is huge for us."
So far, Goodwill MoKan has delivered several hundred medical scrubs and shirts to the Kansas City Care Health Center. With assistance from the Kansas City Medical Society, many public and private medical practices and clinics will continue to receive the attire needed to help patients.