Goodwill South Florida has long been in the apparel manufacturing business, producing more than a million apparel and textile items annually for various commercial and military customers. When Goodwill® temporarily shuttered its operations due to the COVID-19 health crisis, it converted a portion of its business to produce personal protective equipment for local healthcare personnel and hospitals.
Then, Ryder System reached out to inquire about the possibility of sewing masks for its essential workers.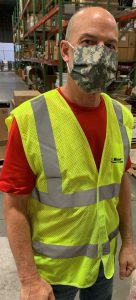 "James Ryder was one of three founders of Goodwill [South Florida] some 60 years ago, so when we got the call from Ryder asking if we could help produce scarce personal protective equipment for their employees, we immediately sprang into action," said David Landsberg, CEO of Goodwill South Florida.
Goodwill and Ryder recently formed a multi-year partnership, which resulted in the organization's sewing business being renamed the Ryder Apparel Manufacturing Division. The business unit employs individuals with disabilities and other barriers to employment, who sew complex military clothing, equipment, gear, flags and associated items for the U.S. military.
The Goodwill employees put their expertise to work to produce the masks — 20,000 in all — for the workers in Ryder's global transportation and logistics operations. Ryder's employees are working tirelessly to ensure that essential products and services get where they need to be throughout the health crisis.
"We are thankful for the expertise of Goodwill in being able to quickly ramp up their sewing operations to make face masks to further protect the health and safety of our truck drivers, warehouse workers, technicians in the shop and rental counter employees," said Heather Gatley, vice president and deputy general counsel for Ryder.