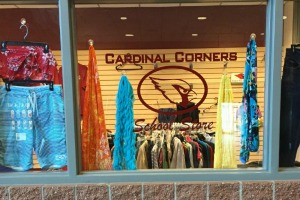 Goodwill Industries of West Michigan (Muskegon) recently opened a new micro-store for area students through a collaboration with Muskegon Area Intermediate School District (MAISD) and Orchard View High School (OVHS).
The Goodwill® is providing a nine-week retail training program for nine OVHS transitional students, using curriculum and customer service certification from the National Retail Federation. This includes an overview of the retail industry, customer service, sales and operational strengths to prepare participants for entry level retail work.
"We are excited to offer this unique training experience to transitional students interested in the retail field," said Mission Services Director Jennifer Tucker. "We hope to duplicate this program in other interested school districts."
In addition to classroom learning, students receive hands-on experience and training in a real-world retail setting. The store, called "Cardinal Corners," is located inside OVHS, offering teen-appropriate clothing and accessories culled from Goodwill donations.
"The students who are currently in the class have greatly benefitted from hands-on training in the school store," Tucker concluded.  "Next school year, we are planning on spending more time in the store and less in the classroom."