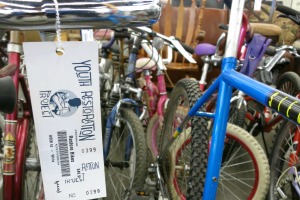 Amidst sawdust, the sound of hammering and the turn of wrenches, youth in Tucson, AZ, are learning that the work from their hands is not only rebuilding furniture and bikes, but also rebuilding their lives as they gain skills that may lead to a career.
Goodwill of Southern Arizona (Tucson)'s Youth Restoration Project is an employment-based program that provides youth ages 18-24 with full-time employment while learning basic carpentry and bike repair. Participants join the program with a variety of challenges including limited soft skills, lack of employment experience or involvement with the juvenile justice system. While learning these skilled trades, they continue to receive reliable support and encouragement to work towards their career goals. They receive services to help them earn their GED, enroll in an apprenticeship program or pursue other educational or training paths.
The program was created not only to provide another avenue for the Tucson Goodwill to serve youth, but to also take advantage of the value of furniture that would have otherwise been thrown away. The program inherently merges mission and retail operations.
"This program provides youth with the hands-on experience that they need," said Rob Hunnicutt, restoration manager at the Tucson Goodwill.
Youth learn that even when something is blemished or far from perfect, through hard work, it can be changed into something worthwhile and increase in value – a lesson that can also be easily applied to the youth themselves.
Donated furniture and bikes are brought to the Youth Restoration Project workshop to be restored, refinished, and/or rebuilt. Participants are encouraged to use their creativity to give a special touch to restored pieces by painting or repurposing an item to look almost brand new. Once completed, the furniture pieces are then distributed to our retail stores for resale.
Julie Bednarek, the Goodwill's youth employment specialist said, "It's amazing to see the outcome of each item. The participants work from start to finish and it's always hard to stop myself from buying everything on the spot."
The initiative currently helps to keep more than 1,000 pounds of furniture from going into local landfills every week, or more than 25,000 pounds in a single year.
To view photos of some of the finished products, visit the Tucson Goodwill's Facebook page.