By Felicia Czochanski Bisaro
You didn't need to hear it from Margot Robbie to know that hot pink Barbie style is a major trend. Celebrities from Lizzo to Hailey Bieber to Megan Fox have been spotted donning bright bubblegum pink looks all summer, ever since photos were leaked from the Barbie movie shoot with Margot as the leading lady and Ryan Gosling as Ken. The trend is here to stay, luxury fashion houses included it in their Fall 2022 collections with Valentino leading the charge with bright fuchsia hues.
It's becoming mainstream to rock the bright pink look out and about in everyday life – there's so much outfit inspiration I'm excited to share with all my pink wearing friends. Some of the looks below are perfect Barbie-core streetstyle looks that can be worn from day-to-night, work to dinner, and for everything in between.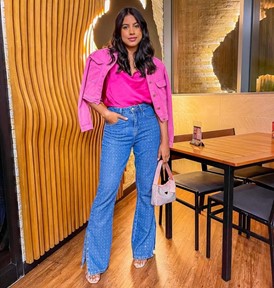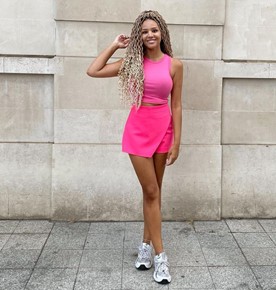 Photo: @belcarvalhho                                              Photo: @ellesiliwood
Knowing you can tap into the trend everyday makes it even easier to pick it as your Halloween look this year – whether or not you have an accompanying Ken or other Barbies to complete your entourage. The looks are versatile and can either be a satire of everyone's favorite plastic doll, or fully play it up. They're also easy to shop second-hand which makes them so much more affordable, not to mention more sustainable, than the average Halloween costume – which is typically worn just once and can cost almost $200 for an entire family! I can't wait to hit my favorite Goodwill stores to shop for this costume for myself, because I can already imagine all of the gems I'm going to find on the racks.
Below are some of my favorite Halloween Barbie-core looks – including an awesome outfit for Ken! One of the most fun things about this costume is that it can be so versatile thanks to her many different personas. If we know one thing about Barbie, it's that she loves to play dress up!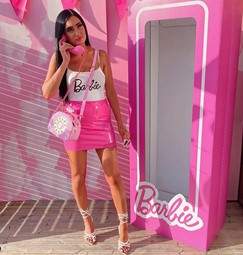 Photo: @jodiexjodiex
Going Out Barbie
Can't you already picture this as the number one costume in college and at the club this year? The plastic skirt is what really makes the look for me – it's almost reminiscent of Khloe Kardashian's full Barbie-pink latex dress. Pair it with a tank and statement heels and you're good to go.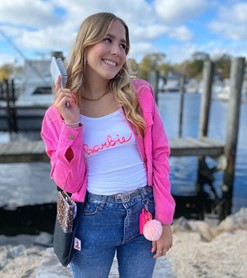 Photo: @red36ct
On Campus Barbie
Barbie's lengthy resume includes being a hot pink student too. This look adds Barbie-core flair to an everyday outfit. Use a paint pen on a thrifted tank to add the nametag that completes the look. I love this hit pink corduroy cropped jacket – it's definitely something you could find on the rack at Goodwill.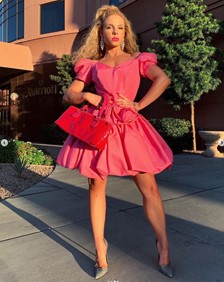 Photo: @smilelikecolleen
Red Carpet Barbie
Barbie does it all – including strutting her stuff on the red carpet! I love how this Arizona Goodwill shopper pulled together the best and brightest of the racks to create this statement look. Halloween is a time to have fun and try on a new personality, all the more reason to recreate this look and dress up.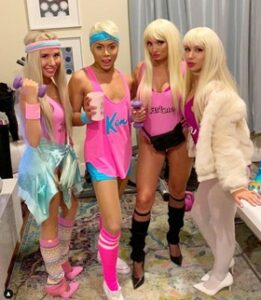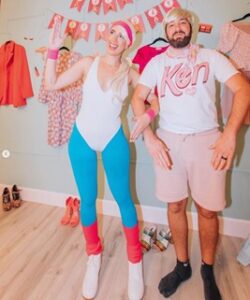 Photo: @lisastanlee                                    Photo: @voguishdiet
Barbie Squad
There's nothing that will turn heads at this year's Halloween parties quite like a Barbie squad walking through the door. Get creative and have each friend take on a different Barbie persona – everyone must wear Barbie pink of course! Want to do a couple's costume instead? There are so many ways to make that work as well. I love how this quirky couple pulled theirs together above.
Shopping at Goodwill to make your DIY costume this year? We want to see it! Don't forget to tag us @goodwillintl with your upcycling process and final masterpiece.