Fall has officially arrived. The pumpkin spice cravings have been initiated, leaves are starting to change colors, and sunset is happening earlier and earlier each night. Yet even with the changing of the seasons, there are some parts of our COVID-19 reality that have not changed. Many people are still working and learning remotely and remaining in their homes or practicing social distancing as much as possible when out and about. In many parts of the world, people are required to wear masks when in public spaces. And in some places, not even schools are open for in person socialization.
Like so many things in 2020, Halloween is going to look and feel different due to the coronavirus pandemic. The Centers for Disease Control and Prevention (CDC) released guidelines that outline traditional trick-or-treating as a high-risk activity. For those who love the opportunity to dress up and be another person — or creature — for the night, this guidance can be upsetting. However, as we've adapted for the sake of our health and safety these past 7+ months, we can adapt again for Halloween, while still having a fun and enjoyable themed night.
Keep reading for inspiration on how to have a safe, yet fun Halloween this year!
1. Creative Pumpkin Patch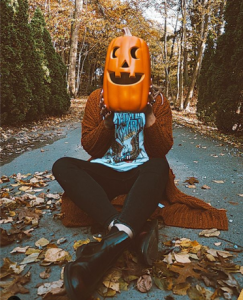 Photo: @katecoffeecloset
It might not be possible to go door-to-door this year, but starting a fun new Halloween tradition (while snacking on your favorite types of candy) can make this reality feel a little bit more normal. Have a family or roommate pumpkin decorating or carving party and award generous candy prizes for a variety of categories. Everyone will have the chance to get their creative juices flowing, while satisfying their sweet tooth as well!
2. Decorate Your Home Inside and Out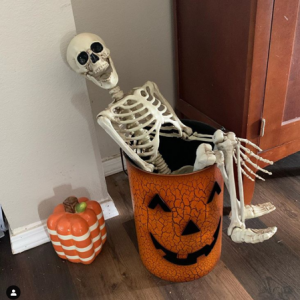 Photo: @mozarkivist
You don't need to leave the house to get into the spooky spirit this year. A little bit of strategic decorating can go a long way. Create a haunted vibe throughout the house and turn on some scary movies to spend the night indoors with your roommates or family. It doesn't hurt to prep a few sneaky surprises in corners throughout the house to scare your companions when they least expect it! For some Halloween decorating inspiration, checkout this post on the Goodwill Shop Blog.
3. Virtual Costume Party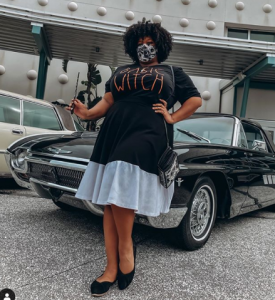 Photo: @aundi_lanae
If you're a real fiend for Halloween and have been planning your costume for months — trust me, I know the feeling! — you might be looking for a socially distanced way to show it off while spending time with friends. By hosting a virtual Halloween party, you can safely gather with all the guys and ghouls your Zoom account allows, while still dressing up to your heart's content. Bonus points if you've created a mask to match your costume!
4. Halloween Scavenger Hunt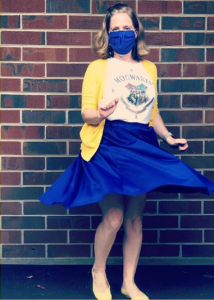 Photo: @libraryladylife
If your kids (or yourself) just really can't fathom a Halloween spent indoors, there is a lower risk activity that you could consider to replace higher-risk trick-or-treating. Assemble teams made up of people from the same household within walking distance from one another and craft a candy treasure hunt in your neighborhood. Plan to stagger what time each household will be outside searching for clues so that no one overlaps, but some good-natured costumed competition resulting in a sugar rush could be just the solution your quarantine bubble has been looking for this year.