What an outpouring of delighted Goodwill thrifters we have seen on social media these past few weeks. Despite temporary closures due to COVID-19, I'm happy to report that more than three-quarters of all Goodwill stores across the United States and Canada have reopened their doors, and even more are opening each day! For those who have been cooped up at home for quite some time with little thrift shopping ability, stepping into a favorite Goodwill store for the first time in a while can be an amazing feeling — especially when you know there's a ton of amazing new inventory just waiting to be found.
I've loved reading everyone's posts on social media, with captions such as: "Feels good to be home," "Back in my element," and "Happy dance as I walk into my local Goodwill full of excitement, mask, gloves and my own bag for my finds." The feeling is mutual. Goodwill is so happy to have their doors open and to welcome you back into their (socially distant) communities.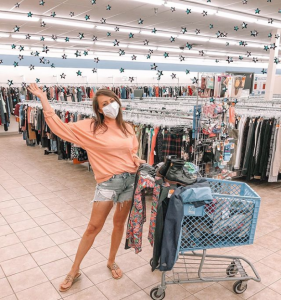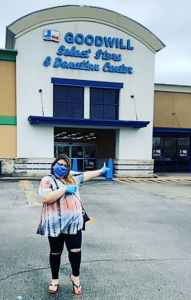 Photos: @secondlookstyling, @poshingwithmona
As long as it's done safely, this is a great time to thrift. While stores were closed people, actually spent time doing the dreaded task of cleaning out their closets and putting together bags and bags of donations. These donated treasures have been brought to local Goodwill stores, waiting for the day when the doors reopened and loyal patrons could come back in. I am so excited for the chance to walk into my favorite Goodwill store again, bags of my own donations in hand, which I'll drop off before looking through the racks for items to revamp my much lighter wardrobe.
As you might expect, Goodwill does have new policies around social distancing and wearing personal protective equipment, also known as PPE. Shopping at your local Goodwill might now be possible, but the experience will be a little different. For the safety of shoppers and employees, Goodwill stores have increased the cleaning and sanitizing of their facilities. Both shoppers and employees are expected to comply with policies surrounding PPE, which means in many locations, while you shop, you may be required to wear a mask for your own protection as well as for the protection of others around you. Many Goodwill locations have taken social distancing measures further by installing Plexiglass shields and modifying shopping procedures that support distanced shopping. All of this is to ensure a safe experience for everyone involved, and none of it will impact the incredible items you'll find on Goodwill's racks.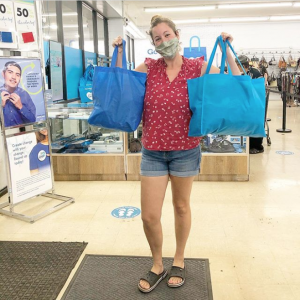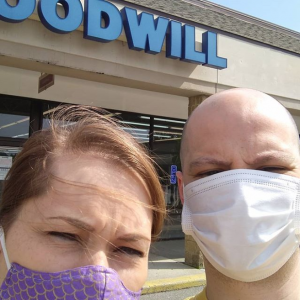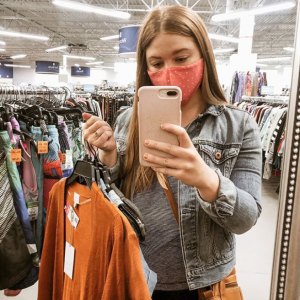 Photos: @tropicmamahawaii,@rarelygrams, @kmborovic
To learn whether Goodwill stores are open in your area, visit the Goodwill Locator. Click the Filter option and select Headquarters only. Then, enter your ZIP or Postal code and click the magnifying glass or hit Enter to find your local Goodwill's website, social media channels or phone number for localized information. If your local store isn't open just yet, you can shop Goodwill online at shopgoodwill.com® for some more amazing finds.