Although Coco Chanel once said "before you leave the house, look in the mirror and take one thing off," to make sure women were expressing themselves with a minimalist, elegant style – she definitely wasn't keeping chilly winter weather wardrobes in mind. Long gone are the days of tank tops and strapless dresses – it's officially cold weather season and with that comes the need to layer.
At the first threat of cold weather, people start to joke about how it's the time of year when people start looking to hibernate indoors with Netflix and hot cocoa for the rest of the season. Whether or not that may be true, there's another important recurring love interest that should pop up again this winter, and that's between you and your turtleneck.
If I'm being honest, I can't say I've always loved the turtleneck look. When I was younger and my parents tried dressing me in turtleneck after turtleneck – think those generic ones you can order from stores like Land's End that's white with a snowman pattern on them – I used to find them so restrictive and hated the feeling of having something around my neck that wasn't a scarf. But now – what feels like a lifetime later – they're back in style and I'm obsessed with them. It's one trend I'm definitely going to be following this season, whether I'm layering a turtleneck with a vest, a cute dress or even just a short sleeve t-shirt, it's a win-win situation because not only am I going to be stylish, but I'll also be warm.
The excitement around turtlenecks will get to a whole new level, when you head to your local Goodwill® store and see that they're totally stocked with them, in all different colors! 'Tis the season to think about others in your community – though this should happen throughout all seasons! – and shopping at Goodwill is not only more sustainable for the environment, but it's also a way to help others. Your purchase is processed as a donation that goes to funding jobs and job training for those who need it. All the more reason to get shopping this winter!
And for those of you looking for some outfit inspiration with my personal favorite layering piece of the season – check out some of the outfits below!
1. Turtleneck Layering Inspo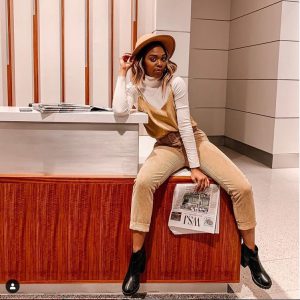 Photo: @amia.butler
This is the quintessential "cool girl" look of winter. It's a creative way to stay warm while still looking fabulous, and the photo above does it perfectly. You can play around with different strappy shirts and dresses you have in your closet still from summer and layer them with different colored turtlenecks throughout the winter. It's the perfect scenario to keep getting use out of your favorite summer outfits all year round.
2. Turtleneck Sweater Inspo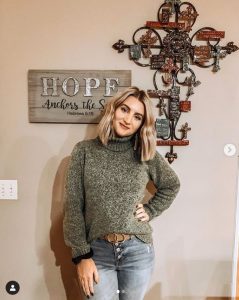 Photo: @simplyjess_2
Whether you have casual Fridays at the office or you want to stay warm, but still fashionable when heading to class, this look is the way to go. Baggy turtleneck sweaters are back in style! What's even more amazing than that, is the turtleneck sweater in the picture above was found at Goodwill for just $2! Now who said staying on trend had to break the bank?