With more time on our hands during these unprecedented times, people have turned to creativity to keep themselves busy. I know I've missed being able to browse the racks at my favorite Goodwill store and that amazing feeling of stumbling upon a great designer piece in perfect condition and at a fraction of retail price. Yet, instead of giving in to online shopping, I've seen an outpouring of posts on social media from people who have learned to make do with what they have and turn it into something creative and fabulous. I've loved pouring through posts on social media, seeing how everyone has been upcycling old thrifted finds, both clothing and home goods, and turning them into something new again.
Of course, though the #shelterinplace orders still stand in many states, we recognize that not everyone is able to stay at home. We applaud those essential workers who are still going out each day, and recognize that these are unfortunate times where people are losing their ability to work as well. Goodwill is committed to supporting everyone in our communities and has put together this page where you can find resources to assist in your job search, or access skill-building resources that can help make you more employable in the meantime.
For those who have found themselves at home for longer periods of time than normal, creative projects are a great way to stay busy. I'm sharing some of the awesome DIY projects I've seen using previously thrifted finds from Goodwill!
1. Cropped Cozy Hoodie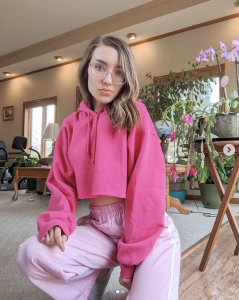 Photo: @mostly.modish
Oversized hoodies are in style, and so are oversized, flowy sleeves! I love the contrast of this look with the cropped waist and loose sleeves. This monochromatic look is a work-from-home dream, and I was surprised to read the caption and find that she'd cropped this hoodie, which had been previously found at Goodwill in its oversized state, herself!
2. Inspired Embellishments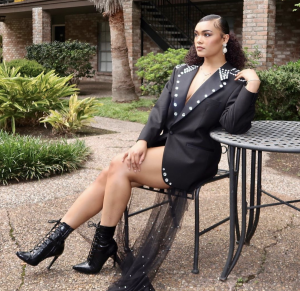 Photo: @matiyassa
This Beyonce-inspired outfit is an easy DIY that can spice up your quarantine happy hour look. The blazer was a great Goodwill find and, in the caption of her post, this creative thrifter links to how she put this look together on her YouTube channel.
3. Colorful Vase Art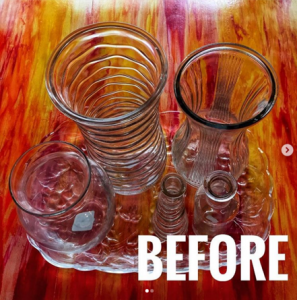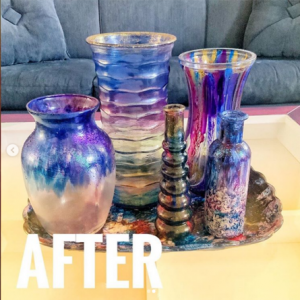 Photos: @findingyourgood
For those of us who can't drop into a Goodwill without looking through the home goods section, vase art seems like a perfect way to spend an afternoon revamping glass and plastic vases with pops of metallic color and paint!
The photos of outfit inspiration throughout this article came from Shop Blog readers and Goodwill thrifters like you. And, yes, each outfit does include at least one item found at a Goodwill store. To submit photos of your own creative thrifted outfits and at-home photoshoots, be sure to tag us on Instagram at @goodwillintl and you might be featured in a future blog. We love seeing photos of everyone's creativity and other fun activities you've been doing at home these past few months.