As the first snow day of the year swiftly approaches on the East Coast, you are reminded that the holidays are on their way. After all, there have been holiday-themed movies playing on the Hallmark channel since the middle of October! With that comes family time, time to relax with friends and also for some professions, the fun tradition of the office holiday party. Office holiday parties are tricky to dress for – so below, I'm sharing a range of outfit inspiration that can work for any type of holiday party or event.
1. Formal Holiday Party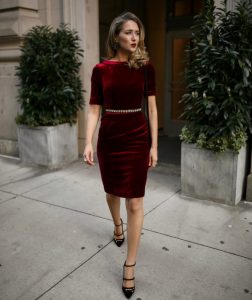 Photo: memorandum.com
If your office holiday party is anything like mine, a dress and heels are totally required. I love the look above because it has a professional neckline and length, while also staying festive with the burgundy red velvet material and pearl accent belt. A dress like this is perfect, because it allows you to show your style. Though the work holiday party may not take place at the office – it's still important to look professional in front of your colleagues!
2. Casual Holiday Sweater Party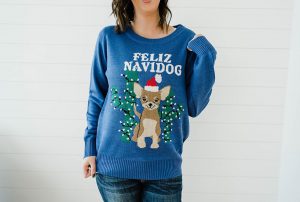 Photo: heytherechelsie.com
If your office likes to keep it casual, and the dress code allows for a fun and casual sweater like the one above, styling the sweater with a pair of jeans and boots can keep you warm and also festive this season. If you need to wear business attire to work however, make sure to schedule some time outside of the office with your coworkers where you can celebrate the holidays with a fun sweater like the one above! Check out your local Goodwill® locations for sweaters like this one, I've found a ton of fun ones there.
3. Holiday Staff Meeting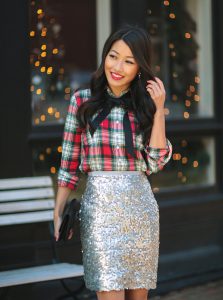 Photo: extrapetite.com
Even if your office might not have an official holiday party, the last day before the holiday break or the last staff meeting before the holidays is the perfect time to flaunt your festive style at the office. You don't need to go all out, but a casual take on a seasonal look. I love the way the look in the photo above combines a casual flannel top with a glam sequin skirt. I've seen both these items at Goodwill, and know you won't have any trouble finding a variation of them there too!
'Tis the season to give back, and shopping for and donating gently used items at Goodwill is a great way to get started. The proceeds of all purchases at Goodwill go towards benefiting others in your community who are in need of employment or necessary job training!