The holiday season has officially kicked off in New York City – the Rockefeller Center tree has been lit and festive lights and sculptures have started popping up and bringing new cause for celebration (and selfies) throughout the city. People have started holiday shopping and crafting and certainly 'tis the season for some outfit planning. Whether you're going to a holiday party, a friend's house for a low-key dinner or hosting the holidays at your own home this is the perfect season to dress to impress your friends and family, while looking and feeling good yourself.
Whatever plans you have in store this season – thanks to your local Goodwill, there's no need to break the bank when coordinating the perfect outfit. Goodwill stores and online shop offer some of the most unique, trendy and covetable pieces that will be sure to make any outfit stand out from a crowd. As if that weren't enough to get you to head over to your local Goodwill store, this calls for a reminder that this is the last month to give back to your community before the new year. Share your good fortune by supporting Goodwill – who help place people in jobs and provide necessary job training for career advancement, solely funded on donations and shoppers like yourself. Knowing that your purchase can not only give you the fun festive top you've been looking for, but also help others in need this season will make browsing the racks all the more fun.
Festive Sweater Party
Spice up your annual gathering with a fun variety of sweaters – thrifted from Goodwill of Southwestern Michigan! Your sweater will give you the opportunity to show off your thrifting (and crafting) skills, while also becoming the perfect holiday party conversation starter. But you better act quickly, these sweaters are popular this time of year and many people are aware that Goodwill carries a great selection.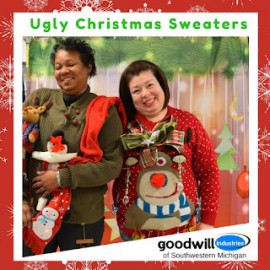 Photo: Goodwill of Southwestern Michigan
Casual-Dressy
If you haven't yet started following @queenjaythrifts on Instagram – you should. She's an impressive thrift shopper and a big fan of her local Goodwill. That's actually where she got the two-piece hounds tooth ensemble below… for just $1! Matching sets such as this one are incredibly trendy this season and Goodwill carries some vintage and unique finds at incredibly affordable prices. Can't find a matching set like this one? You can pair two pieces together to make your own – grab a fun blazer and a solid matching skirt and you can't go wrong.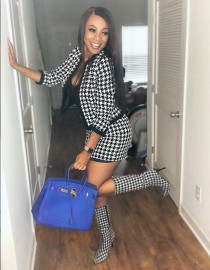 Photo: @queenjaythrifts
Comfy Casual
If you're looking for a comfy yet chic outfit to wear this season, capes are the perfect way to stay warm and in style. Browse the sweater and jacket section of your local Goodwill store for outfit inspiration. They're perfect for layering throughout the season and come in a great selection of styles and colors. I really love the fringe at the bottom of the cape in the featured photo below. Especially if you live somewhere a little bit warmer this season, this is definitely a trend to take advantage of.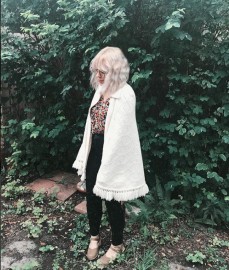 Photo: @dejajules