When daylight savings begins, a lot of non-morning people (like me!) have a hard time. Even if you don't have to work on Sunday, sometimes the effects of a new routine linger through the rest of the week. If you can sleep in the day of, it just means that schedule shake-up will hit you on Monday morning instead. To combat sleepy eyes and a week with extra yawns, here are three of my favorite tips for making the wake up a little less brutal.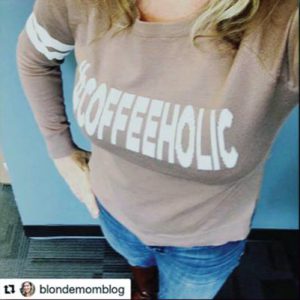 Image via instagram.com/blondemomblog
Thrift yourself a gift to make Sunday morning special. A cute new sweater, like this #coffeeholic one found in a Goodwill Industries of Middle Tennessee (Nashville) store, would do the trick! Hang it up for now, and when you can finally pull that comfy knit over your head on the first morning of the time change, you might not even notice that you lost an hour of sleep. Follow your local Goodwill® on Instagram so you can rush down and snag cute scores as soon as they come in and stay on top of sales to earn your own daylight savings.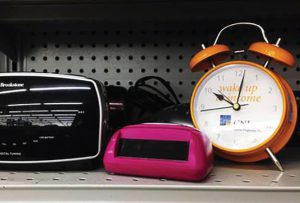 Image via pinterest.com/goodwillncw
Does anyone else start to tune out their alarm clock after a while? I've systematically desensitized myself from all of the ringtones on my phone, so now my husband is left to shake me awake in the morning. Perhaps daylight savings time is just the right occasion for a new alarm clock. Goodwill Industries of North Central Wisconsin (Menasha) pinned an image of a few different styles of clocks found in one of its stores, which reminded me how fun this necessary (albeit sometimes annoying) bedroom accessory can be. In a bright pink or as a vintage-style orange accent, this morning must-have can serve as functional décor, and with new donations coming into Goodwill stores every day, you won't be bored by the variety. Don't forget about the magic of paint or washi tape to update a boring black clock to match your bedroom's mood.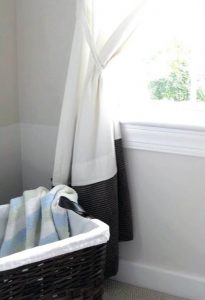 Image via http://southernhospitalityblog.com
Another challenge that comes with daylight savings, as parents will know, is the change in routine for little ones. Until kiddos can tell time, they rely entirely upon their body's clock, which, unfortunately, doesn't get the memo about daylight savings. Settling down while the sky is still light may be tricky, but Rhoda of the blog Southern Hospitality shared a nursery makeover that included Martha Stewart curtains found at Goodwill! They originally weren't quite long enough for baby Jack's window, but with a panel of fabric added to the bottom, his mom customized them to perfectly match the room while providing a stylish way to ease him into the time change.
Goodwill organizations generate opportunities for people to build brighter futures for themselves and their families, even without an extra hour of daylight, and you support that mission every time you shop at or donate to your local store. So instead of feeling bummed out by the extra early morning this week, make it an occasion to celebrate. Happy thrifting!