By Julia Marchand
Who says Valentine's Day has to be celebrated at a fancy, expensive restaurant? Not me! This year I'll be celebrating at home with my family over a bountiful brunch. But how does one make an at-home meal feel special? Well, with a trip to Goodwill®, of course!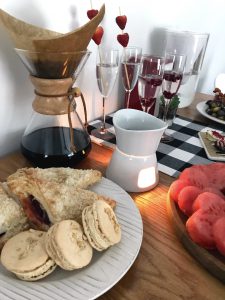 I started my Valentine's brunch prep by scoping out the selection in my local Goodwill's kitchen department. A solid color scheme can pull together even the humblest of events, so I was mostly on the look-out for reds, whites, and pinks. While imagining my fancy brunch, I had pictured lots of heart-shaped goodies so one thing I was convinced I couldn't leave without were Valentine's-themed cookie-cutters. To my delight, I found a set of four still in their original packaging! Those quickly made their way into my cart.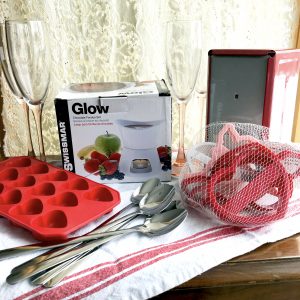 The other item that I was hoping to find while thrifting were some fancy champagne flutes. By dressing up your drinks, you can really bring home a restaurant atmosphere without having to go out. When these adorable pink-stemmed beauties peeked out at me from a crowded shelf, I knew they'd be perfect. They hopped in the cart, too, alongside a set of six iced tea spoons which I planned to dip in chocolate and load with special toppings. These treats can be enjoyed all on their own or stirred into a mug of hot coffee or cocoa. Plus, this is an easy thing to prepare the day before an event and just stash in the fridge until the time is right. I did three varieties: White chocolate with freeze-dried raspberries, milk chocolate with crushed nuts, and milk chocolate with pink-dyed white chocolate and raspberries. It's as simple as dip, drizzle, cool, and enjoy!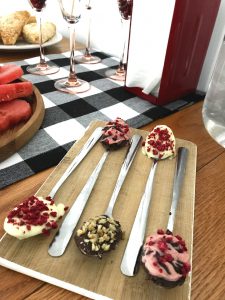 Before serving everything up, I also gathered together a few of my other favorite thrift finds from the past: a heart-shaped ice cube tray, a fondue set, and a red vintage diner napkin dispenser. These are all things I've excitedly scored in the Valentine's Day "off-season." I never limit myself to shopping during a specific holiday season. If you see something you love, just grab it! When you feel strongly about an item and the price is Goodwill-good then you're sure to use it over and over again.
The day before brunch, I also nestled some pomegranate seeds inside each tiny heart in my ice-cube tray, topped them with water, and let the freezer do the rest. This is another quick and simple touch that really made our drinks feel special. Even if your Goodwill doesn't have specific Valentine's Day ice cube trays the next time you visit, you can still create a Valentine vibe with a regular thrifted ice tray and celebratory additions like pomegranate seeds, fresh raspberries, or even edible flower petals! Between these and the heart-shaped strawberry skewers, my new champagne flutes were looking lovely as ever!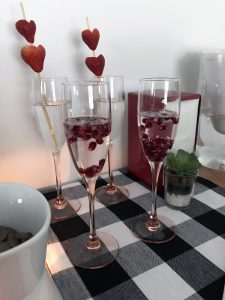 Are you wondering what to do with those heart-shaped cookie cutters? The possibilities are endless! I used mine to cut out watermelon slices and bread for finger sandwiches. One little tip: If you're doing sandwiches, cut the bread slices first then add the filling. If you fill them before using the cookie cutters, the pressure of cutting can break the bread or cause your fillings to ooze out messily. While I was shopping, I also had my eye out for alphabet cookie cutters so I could use the Xs and Os, but it wasn't in the cards for me on this visit. I've added it to my to-thrift list and will keep an eye out on every future visit! I'd love to try using cookie cutters to make egg-in-a-hole or to shape sprinkles on top of a frosted cake! Both would make amazing additions to a Valentine's Brunch if you ask me.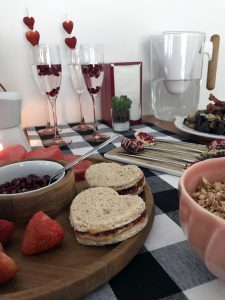 The SOMA water pitcher, wooden serving tray, and faux flowers on my table were also past Goodwill finds…so, basically, my entire kitchen is filled with second-hand goods. And, you know what? I couldn't feel better about it. With this combination of vintage gems and newer finds (remember, the cookie cutters were still in their original packaging!), my kitchen is outfitted with goods that saved me money, helped save the planet by reusing other peoples' cast-offs, and helped create jobs within my own community. Buying brand-new pieces from a big-box store or online won't accomplish any of that so, really, shopping at Goodwill is just one more way to spread a little love this Valentine's Day. Happy brunching!