One decor trend that will probably always have a place in my heart is that of a whimsical woodland. It's (of course) adorable in nurseries, but this charming style can also be surprisingly sophisticated in other areas of the home. The best part? With a little creativity and some thrifting luck you can cash in on the trend for a fraction of the price that's being asked in fancy home decor stores. Plus, since Goodwill® sells your stuff to create jobs, every 25 seconds someone gets a job through the help of Goodwill. That's all possible because of support from you and other thrifty shoppers like the people below!

Image via blog.jennasuedesign.com
This bookcase before and after that I found on Goodwill Industries of Alberta (Edmonton)'s Furniture Upcycling and DIY pinboard is my absolute favorite refreshed decor idea that I've seen in a long time.  On first glance, I thought "Wow, how can paint do so much?" then I began to notice the unique details that brought this bookcase back to life. The woodland wallpaper in the back gives it so much personality and probably cost only a few dollars! Keep an eye out for sample sizes of wallpaper so you don't end up with a whole roll for a small project like this. Some places even give them away for free! The addition of wooden legs elevates the piece making it appear lighter and less blocky. But I think the real kicker here is the picture frame refacing which brings texture and elegance. You can grab both the bookcase and frame (and the books and baskets inside!) at Goodwill and bring them together with a fresh coat of paint. The frame almost makes it seem like the items on your shelves are works of art! Overall, it's such a stunning makeover with a lovely subtle style.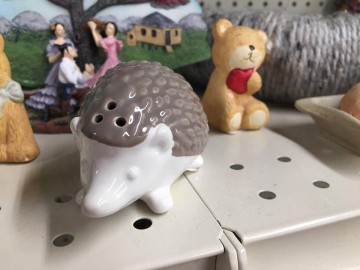 Image via facebook.com/goodwillretail
So, the bookcase is a great way to infuse a living room, hallway, or bedroom with a little whimsy, but what about bringing that mood to the kitchen? I feel like the average kitchen is so often only about function and misses out on the little touches that make it unique. I mean, think about your own kitchen—does it feel like it captures your style? Yes, of course we need to have appliances, dishes, food, and these do take up a lot of space, but there is always room for a few quirky little details like this sweet hedgehog salt/pepper shaker posted on Facebook by Goodwill Industries of Central Indiana, Inc. (Indianapolis). Shakers are one of my favorite things to look for while I'm out thrifting. There are just so many different sets out there from eccentric to elegant. They may be small, but they can make a huge impact on the tone of your table setting.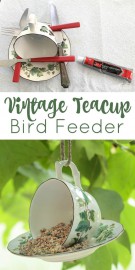 Image via attagirlsays.com
Maybe the best way to appreciate that forest feel, though, is to blur the lines of what's outside and what's in. When I spotted this adorable DIY teacup birdfeeder shared by Sandi Thomas onto this Transforming Used to New pinboard, I knew that would be the very best way to feel connected to the outdoors even when you're inside. Hang it just outside the window closest to your favorite chair so you can see feathered friends flutter in for a visit on a regular basis. I love ideas like this that put use to teacups that were separated from the rest of their set as it's a great way to keep it out of the landfill. Click through for the tutorial and more fun upcycling ideas!
What do you think? Are you rolling out the welcome mat for the woodland trend or do you feel strongly that these cute creatures should stay outside the home where they belong? Either way, I hope your weekend adventures include some magical Goodwill finds.