By Felicia Czochanski
Spring break is a celebration of getting past the midpoint of the school year. For many college students, it's the perfect time to escape responsibility and be a kid again, heading out with a group of friends for the week to live life to the fullest and have fun. Especially for students, who are already shouldering the financial burden of college costs without the support of a salary, spring break trips can be something of an extravagance. For many students, they can take months of planning and careful saving to become a reality.
Even despite saving up for them, these trips can add up quickly. Once gas or flights are paid for and Airbnbs are booked, there's little room for food or excursions, let alone cute outfits to take on the journey. This is where second-hand shopping comes particularly in handy, because when you get thrifty, you'll get more bang for your buck. Stopping by Goodwill before any trip can be incredibly helpful, even when you're not sure what vibe you're going for. That's because Goodwill has some of everything and can help get the creative expression juices flowing as you walk through the racks waiting for something to catch your eye. Shopping at Goodwill is also a way to know your money is going even further. Every item you purchase at Goodwill means proceeds from that item are being reinvested into your community, providing people with jobs and job training to help provide them with the tools they need to thrive.
Heading on a spring break trip this year and looking for thrifty outfit inspiration that won't break the bank? Check out these looks from real Goodwill shoppers below and think about how you might pair pieces you already have in your closet with a few statement items from Goodwill.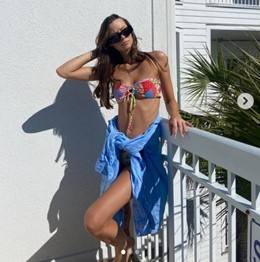 Photo: @emmacochrann
Versatile Coverups
If your ideal spring break trip means warm weather and time spent at the beach or pool, you're most definitely going to need some cute swim sets and coverups. I love the coverup inspiration in this photo because the oversized tunic shirt can be worn tied around the waist like a sarong, as an oversized shirt with a pair of white jeans, or even as a dress to dress up and wear out to dinner. From the plane to the beach, this will be a go-to piece you can re-wear in different ways.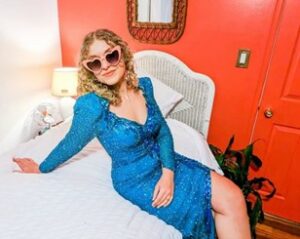 Photo: @odetoanabode
Sunglasses and Sequins
If you're going on a spring break trip, you may as well go all out when it comes to fun looks. Don't forget to pack a pair of oversized sunglasses and party outfits that will sparkle into the night. There's no dress code on spring break, which means all things sequins are fair game.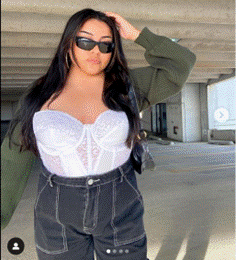 Photo: @ana.oelen
Day to Night
Once you've packed your beachwear and clothes for the club, you're going to want to pack some day to night looks that can get you from the plane to exploring to your dinner reservation without needing to change. I love the layering in this look because without the sweater, it easily becomes a going out outfit. You'll also always want to pack at least one pair of jeans for your trip, so pack a pair that's comfortable and can be worn with anything!
Have your own spring break style that you can't wait to share with other Goodwill shoppers? Make sure to tag us @goodwillintl for a chance to be featured in a future post.