Have you ever seen something that made you swoon, but you knew it could probably never be yours? Have you ever wanted something for so long, but it just kept staying out of reach? The serendipitous search opportunities at your local Goodwill® is here to fulfill your dreams.
Case and point. Three and a half years ago, I saw a blanket on display in a retail store. Not just any blanket, a 100% merino wool blanket. A Hudson Bay blanket. A cream-colored dream of a blanket, with bold, timeless primary color stripes at the tops and bottom. I was in love. I'm a Mainer after all, and we take our woolens very seriously here. But at $400 retail, I knew this could be a long wait– if ever.
I set up eBay alerts, only to constantly see them still priced out of reach even when one DID finally pop up for sale. Out of my price range, even for scraps. Even for used versions of these blankets that were moth-eaten and threadbare. Nevertheless, I persisted.
Fast forward to a few weeks ago, and on a whim, I walk into a Goodwill near my house with a few spare minutes before meeting some friends after work. Just killing time so I'm not the first one there.
I browse the dresses first as usual, then work my way back to linens. And there it was, hanging as if looking at me, waiting or me. The exact blanket. The exact design. And in the exact size I'd been looking for.
I looked around. WHAT? WAIT, WHAT? AM I being PUNK'D? Is this FOR REAL?
I grabbed it so fast, I didn't even look at the tag. Because I knew at a Goodwill, it was definitely not $400. Even if it had flaws, I'd work with them– though I could see it looked perfectly new. I saw the tag- $20.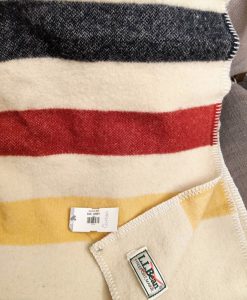 Credit: Jenna Pfueller
Did you know that Goodwill stores have items for sale on eBay at shopgoodwill.com®. Last year, more than 34 million people used computers and mobile devices to access Goodwill services, and more than 1.6 million people received in-person services.? It's just another way Goodwill is keeping items out of the waste stream, and fund job training programs in your communities. By reaching out to those who might not be able to get into their stores, Goodwills are able to find new homes for treasures that might not otherwise get discovered. As a matter of fact, here's a similar blanket to the one I found currently for bid on eBay to benefit Goodwill.
Not sure if your local Goodwill has an eBay store, or want to check out deals on items from other Goodwills that will benefit their local efforts? Here's a listing of links to each of them. You can also shop online on shop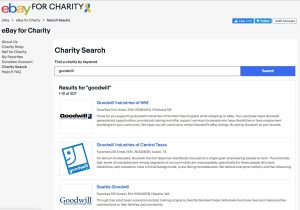 Need ideas on how you can utilize a wool blanket, regardless of your local climate? Here's a few things they can come in handy for, besides staying warm.
Stay toasty AND THRIFTY, my friends!