Happy birthday to our dear ol' U.S.A.! This year I've been eyeing weathered and worn decor and clothing choices that remind me of our country's history. One thing that I love about shopping at Goodwill is the surprise of stumbling upon items from eras past. It's entirely possible that I could find something over a hundred years old while thrifting and the magic of that drives my curiosity. Although the finds we're looking at today aren't actually that old, it's still fun to take a quick walk down memory lane with these Americana-inspired pieces.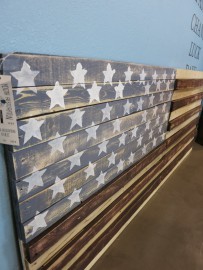 Image via facebook.com/GoodwillSouthernAZ
I recently saw on Goodwill Industries of Southern Arizona (Tucson)'s Facebook page that this enormous wooden plank flag showed up as a donation in one of their stores. It's handmade look seems like the perfect style to display while we celebrate our hardworking country. Shopping at your local Goodwill retail store is another great way to celebrate since Goodwill organizations provide people with more than job training, but also a full set of tools they need to support themselves and their families, today and in the future. To me, it seems like America has always been a do-it-yourself nation where, as long as you are willing to work hard, you can find a way to make your dreams come true. This July 4th, I'll be honoring that idea with decor choices just like this and a fervent desire to help those who seek the American Dream.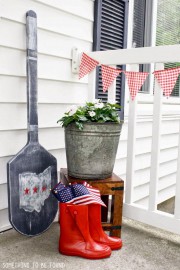 Image via somethingtobefound.com
In a similar style to that rustic wooden flag, Katie over at the blog Something to Be Found took a 1980s decorative paddle that she found at Goodwill for only $1 and gave it a well-deserved Americana makeover to round out her Independence Day porch display. Repping her roots in Ohio, she refinished the piece with red, white, blue, stars, and a silhouette of her state. You can learn more about her painting and distressing techniques by clicking through for the full tutorial. By the way, the boots and gingham fabric for the bunting also came from Goodwill proving that you don't have to spend a lot of money to make up a cute little arrangement of vintage finds
Video via The Goodwill Gal on YouTube
Yes, it was weird to me when the '80s were suddenly considered vintage, but the '90s, too? Where has the time gone?! Bleached denim will always remind me of the acid wash days of that era so these gel-bleached star and stripe shorts shared by Marion Goodwill Industries are really bringing me back. This is just one of the simple projects they mention in their Independence Day DIY Ideas blog post. Any of those crafts could be completed this weekend (in time for the holiday!) with a quick trip to your local Goodwill and a little time. Check out the full post for project instructions and even more inspiration!
Sending you all best wishes for a meaningful 4th of July holiday. I hope you're able to celebrate in a way that is important to you, whether that means crafting, thrifting, or a salute to soldiers in your local parade.