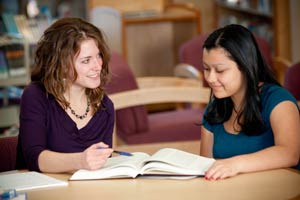 January marks the 10th anniversary of National Mentoring Month. This month, organizations and individuals raise awareness of mentoring in its various forms, with a goal of recruiting individuals to become involved in formal mentoring programs.
In November 2009, Goodwill Industries International, along with 56 Goodwills in 38 states, kicked off the GoodGuides® youth mentoring program. Today, more than 3,100 youth have been matched with mentors. Across the country, youth, families and referral sources report positive changes in the lives of youth from mentoring.
Perfect Pairings
Elizabeth came to the GoodGuides program very skeptical of what the program had to offer.  She was struggling in school, and her anger  sometimes got the best of her. She wanted that to change.  Elizabeth also recognized that her friends were not having a positive impact on her life.
In August, she was matched with her own mentor, Monica.  Monica has a variety of interests, including playing sports, kayaking and creating jewelry.   During the initial meeting between Monica and Elizabeth, they realized their most significant common interest – the medical field.  Monica works for a local hospital as a Sterile Processing Technician, where she  cleans and sterilizes surgical equipment.
Today, both Elizabeth and Monica say they have been pleasantly surprised at how much they have in common. Elizabeth finds  going to the hospital and learning about Monica's job fascinating.  She can't wait to go home and tell her family what she sees and learns there.  Elizabeth has also become more involved in school this year, working as a teacher's aide.  She has made an effort to avoid her friends from last year who were exerting negative peer pressure on her.  She also reports that she has learned more effective ways to handle her anger and is noticeably smiling much more since being matched.
Monica also finds the experience to be enjoyable since she is the youngest in her own family and never had a younger sibling to be a role model to.  When asked what she would tell potential mentors, she said, "I really didn't think I would have time, but my boyfriend had me go to the GoodGuides meeting with him and I've found that 4 hours per month is not hard to find.  It is fun doing things I already do with someone else."
Find Your Perfect Match
Youth across the country have improved their relationships with family, adopted better attitudes towards school, and reported a decrease in aggression because of their experience with their mentor.
Want to make a difference in a young person's life?  Contact the participating Goodwill in your community and speak with a program specialist to find out how you can become a mentor.