Meaningful Work for People with Disabilities
Goodwill® Responds to Autistic Self Advocacy Network Petition on Change.org
Recent media reports have generated interest in the U.S. Department of Labor's Special Minimum Wage Certificate and its use by more than 3,300 employers throughout the country, including some Goodwill agencies, to employ people with multiple or significant disabilities.
We welcome the concern that many Americans have shown in improving employment opportunities and quality of life for others in their community, which has been a key element of Goodwill's mission for more than a century. As North America's leading nonprofit provider of employment training, job placement services and other community-based programs for people with severe barriers to employment, Goodwill takes these concerns seriously.
However, the petition recently sponsored by the Autistic Self Advocacy Network on Change.org painted an inaccurate picture of Goodwill and the use by some Goodwill agencies of the U.S. Department of Labor's Special Minimum Wage Certificate.
The petition takes isolated incidences of a few workers under the certificate and implies that they are typical for Goodwill. For reasons of privacy, we can't comment on the specific circumstances of any individual trainee, former trainee, program participant, or current or former employee. However, we can say that this level of pay is extremely atypical for Goodwill.
Our recent data shows the average hourly pay of Goodwill employees who are paid utilizing the Special Minimum Wage Certificate is approximately $7.47 an hour. Five to seven percent of Goodwill's more than 113,000 team members are paid in programs utilizing the Special Minimum Wage Certificate. We are proud of these team members' contributions. Goodwill also employs another 25,000 employees with disabilities who are integrated throughout the Goodwill workforce and community. Our data shows that these employees earn an average annualized salary of about $29,000.
It is also inaccurate to assert that Goodwill "exploits" the Special Minimum Wage Certificate. This tool is an intentional policy of the U.S. Department of Labor intended to create vocational opportunities for people with severe disabilities who otherwise would not have them. It is one of the many tools a Goodwill agency might use in assisting individuals with severe disabilities gain skills and be a part of a workforce after assessing their capabilities, abilities, wants and desires, while at the same time providing them with assistive technology, health care, transportation and other support services.
Nearly 80 percent of people with disabilities nationwide are not part of the workforce. It's clear that the marketplace does not provide adequate job opportunities for them. The Special Minimum Wage Certificate opens up opportunities to people who otherwise would not be offered a job, and it allows employers to focus on what people with significant disabilities can do, not on what they can't.
Goodwill supports reforms aimed at preventing the exploitation and abuse of people who have disabilities, and we strongly support programs that will lead to an increase in competitive integrated employment for this population. However, eliminating the Special Minimum Wage Certificate will harm – not help – people with multiple or significant disabilities.
Special message from Goodwill's Director of Mission Strategy »
---
---
Special Minimum Wage Certificate Gives Individuals with Disabilities Employment and A Social Outlet
Bryan is a 27-year-old man diagnosed with Down syndrome and attention deficit hyperactivity disorder (ADHD). He completed a situational assessment with Goodwill and was referred to an extended employment program.
Bryan's mother, Angela, uses a wheelchair due to her cerebral palsy. Her mobility concerns make her uncomfortable when taking her son to social venues. Goodwill has offered them both employment and a social outlet. As a result, Bryan's speech impairment has improved, increasing his ability to communicate at home and develop through Goodwill programming. He can now often be observed laughing with peers and joining in conversations.
Read Goodwill's fact sheet on the Fair Labor Standards Act (FLSA) (PDF, 100 KB) »
Read Goodwill's position on the Special Minimum Wage Certificate (PDF, 625KB) »
"Goodwill has really filled a void that people need. They've had a huge effect on our family. I know my son is happy because he has a smile on his face." — Angela
---
Without the Special Minimum Wage Certificate, Jim Barnette would not have a job.
Jim Barnette is Goodwill Industries International's 2012 Achiever of the Year — an accomplishment that would not have been possible without the work opportunities created by the Special Minimum Wage Certificate »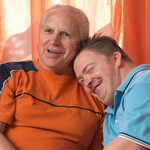 "After working in the loving environment of Goodwill, I find my son a happy, healthy 30-year old man who wants nothing more than to make people happy around him."
Johnny Beckhardt finds a family at Goodwill who support and empower him to overcome his disability and obtain work. »
"She wants to work. She's been very good with her hands, and she does like to work. There's no ifs ands or buts about it."
Earl Hurley argues that, without organizations like Goodwill, his daughter who has a disability would not have the ability to find meaningful work today. »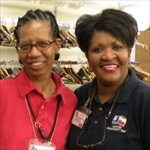 "Goodwill means that I can be independent, can work and get the things I need."
Alfreda Hensen benefitted from dedicated Goodwill support staff to find a job and overcome her disability »
---
For Once In My Life
"For Once In My Life" is the story of a unique band of singers and musicians – the Spirit of Goodwill Band based in Miami, FL – and their journey to show the world the greatness within each of them. The 28 band members have a wide range of mental and physical disabilities and receive a commensurate wage as well as employment supports that allow them to enjoy the social and emotional benefits of employment.
"For Once In My Life" explores the power of music in helping the band members' unique talents emerge, develop and excel as they are nurtured and supported by Goodwill services. Learn More »
---