"As far as I'm concerned, leopard is a neutral." – Jenna Lyons, fashion designer and former creative director of J. Crew.
Last spring the fashion runways geared up with the hottest trends for Fall/Winter 2018. Lots of lengthy, flowy dresses, silky reds and chunky heels graced the catwalk. But each look did not seem to be complete without the addition of some creative variation of leopard print – whether it was a leopard print scarf, purse or pair of heels, it was the leopard print that made the outfit extra special and of course, part of one of the trendiest patterns of the upcoming season.
Now that cold weather is upon us, it's time to start thinking how we can start integrating animal prints – and especially leopard prints – into our wardrobes. It's a fun way to stay on trend with some of the most classic patterns, while spicing up any outfit whether your heading to the office or out to dinner. At a recent trip to Goodwill in New York City, I found this beautiful pair of chunky tan Taryn Rose platform block heels that upon immediate thought (and purchase) I knew would complete a look with a leopard print cardigan I had already waiting for me in my closet. It's definitely one of the best feelings to find such a great deal at Goodwill stores, while also knowing that my purchase is benefiting others, since the organizations' employment programs promote independence and dignity for people who otherwise may not have been able to provide for themselves and their families.
Now if the connection between a block heel and a leopard cardigan isn't an innate one for you, but you want to learn how to incorporate some animal print into your style this season, keep reading for some inspiration!
1. Add A Pop Of Animal Print To Your Purse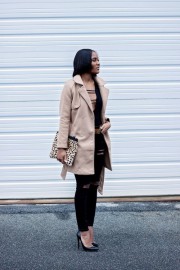 Photo: TheDaileigh.com
If you know where to look, just about every Goodwill store that I've been in has a great selection of handbags. Whether they're vintage, barely used or simply just a sturdy bag to carry your belongings, it would be a surprise if at least one option didn't include some sort of animal print. Pair it with a classic neutral look for a fun pop of print!
2. Add A Pop Of Animal Print To Your Purse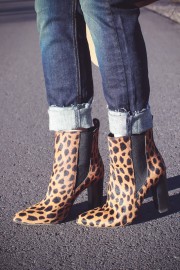 Photo: BusbeeStyle.com
Along with fall comes the need for closed-toe shoes that can hide a pair of warm, fuzzy socks. Just me? These leopard print booties are not only trendy, but warm. Plus you can dress them up or wear them casually – they look great with a pair of jeans.
3. Stand Out In Spots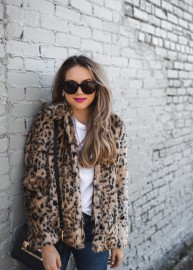 Photo: TheTeacherDiva.com
Don't apologize for expressing yourself through your style – sometimes you just need to stand out, and nothing says fun like a statement jacket! I've seen so many similar styles in local Goodwill stores, that I know they won't be hard to find – or out of budget. Goodwill has such great deals on coats and jackets, and be sure to checkout the sale color of the day before shopping for extra special deals.