Looking down the shirt racks while I'm shopping, pattern after pattern jumps out at me. Over in the pants section, though…not so much. Why is it that we tend to be more comfortable with basic, neutral pants and prints up on top? Patterned pants do tend to sneak a little more into summery looks, but I'd love to challenge that notion today by highlighting some incredible thrifted ensembles that totally win with prints on the bottom (and still work in any season). Let's see how a few fashionistas wear designs below the waist…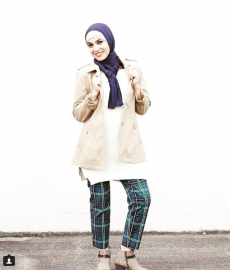 Image via instagram.com/dinasdays
First, I love this outfit that was shared on Instagram by Goodwill Industries, Ontario Great Lakes (London, Ontario). It's a wonderful example of patterned pants that would work in any weather! This plaid would be perfect for a picnic in the summer, back-to-school with a blazer in the fall, with a light sweater for spring, and here with boots and a trench for winter. The color of the model's hijab also accentuates the subtle purple within the pattern to pull the whole look together. Since she paired her plain, relaxed tunic sweater with some exciting pants, it makes the look fun not frumpy. Two thumbs up!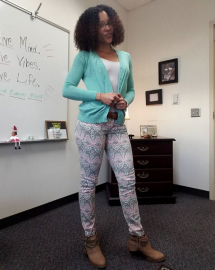 Image via instagram.com/fitfoodie_tmarie
So, this next thrifted outfit's bright colors do seem spring-like, but her boots (and the little elf behind her on the white board) suggest she's wearing this in winter. Honestly, spring colors are so refreshing to me on the darkest January days so I'm loving it. A gauzy gray scarf would be another accessory that could be added to take this into a cold environment. Or, if she swapped her boots out for sandals, it would fit right in for summer. With a little planning, there's more versatility in patterned pants than we may originally think! Take a look at thrifter Tasha Williams's Instagram to see how she wears her other Goodwill goodies.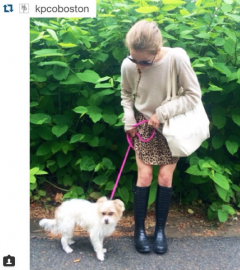 Image via instagram.com/kpcoboston
I suppose I shouldn't limit patterns-on-the-bottom to pants, though, should I? Morgan Memorial Goodwill Industries, Inc. (Boston) regrammed this pairing that looks both chic and comfortable. Just as with today's first outfit, a loose beige sweater could have looked frumpy if matched up with boring bottoms, but here we get a playful animal print to offset the neutrality of her sweater. On colder days, some fleece-lined leggings would make a toasty base layer. Another aspect I really appreciate about this look is that the leopard print looks like it might actually be dress or tunic top rather than a skirt which, again, shows off the versatility of certain patterned pieces. Super creative styling, lady!
The next time you're feeling blah about your closet, try mixing some patterned pants with an unexpected top or for an unexpected season. This may be just what you need to feel inspired! Or, you could scroll through the #goodwillfinds hashtag on Instagram to see how others are styling their second-hand clothes and decor. That's how I found all of these looks! As you scroll, don't forget that each of those purchases is helping Goodwill organizations to build strong families and vibrant communities through job training, placement and family support services for people who have disabilities, people who need education or job experience, people with limited financial means, people with criminal backgrounds, veterans and military families, youth and other vulnerable populations. So much good from such a reasonable (and necessary) investment—attire! How have your latest clothing purchases impacted your community?