Fall transition outfits are always challenging. We can usually count on wearing sundresses in July and sweaters in January, but these tricky in-between-season months, like September through November, can be tough! You may check the weather before you leave the house and think you're set, but then, the sun disappears behind a cloud and a comfortable temperature is suddenly chill inducing. On the other hand, if you head out the door in a wool dress, you'll feel like you're boiling before long. Read on for a few tips for dressing comfortably during these finicky months.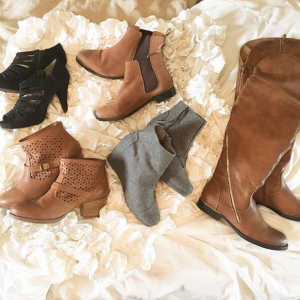 Image via www.instagram.com/goodwillks
Fall Transition Outfit Footwear
I've noticed that having cold feet can really impact my general temperature. A pair of socks do a lot to warm me up. On fall days, when I'm unsure of what to wear, I always start with boots. If my toes are snuggled up nicely in a pair of fancy fall boots, I will always feel toastier. As long as you're not going too far with wool socks, this should be just the right balance because having covered toes won't make your temperature rise if the weather heats up a little. Plus, there's not much better for leaf-stomping than cute boots, am I right? Cristy from Goodwill Industries of Kansas (Wichita) recently snagged the above selection of footwear at her local shop, and I bet there's something equally as stylish waiting at yours!

Image via pinterest.com/sfgoodwill
Layering: A Fall Transition Outfit Staple
On to our next point: layering! It seems like a simple concept (just layer different pieces on top of one another), but during a transitional season, it's a little more intricate than that. The trick is to make sure that you're layering light items. If you have three layers that are all thick fabrics, it doesn't matter that you can take off two of them — you might still be hot! This Men's Style pinboard from the Goodwill of San Francisco Bay has some great examples of stylish and efficient layering, like the one above. The fella pictured has one light layer (the chambray), one medium-weight layer (the vest) and one thick sweater to top it all off, so he'll be able to get comfortable quickly no matter what the weather decides to do.
What are your tips for staying comfortable in early fall? Do you do any of your seasonal shopping at thrift stores? Goodwill provides individuals with opportunities to turn jobs into careers, so something as little as buying a new sweater from Goodwill can make a huge difference both in your comfort and in the well-being of your community members!