What says "autumn" more than pumpkin spice and foliage? Plaid. Even just looking at plaid makes me feel comfy cozy. That's probably because, growing up in the '90s, I wore a lot of plaid. Yes, it was a trend. But it was a practical trend! Plaid, plaid flannel especially, is incredibly comfortable and these days it's perfectly acceptable to dress it up or keep it casual. It's such a versatile pattern that I find myself always wanting more.

Image via goodwillmidmichigan.org
Goodwill Industries of Mid-Michigan (Flint) assured me in this blog post that I'm not the only one who is mad for plaid this year. Apparently, the '90s are back and you won't see me complaining! As they mention in their article, buying high-end runway-ready silk plaids is something that most of us could never afford. Nor would I want to! They point out that a shopper can find the same exact styles at Goodwill for thousands (yes, thousands) of dollars less. Plus, Goodwill's goal is to aid in the success of people who are striving to earn a paycheck and support their families. Saving money while helping people in my community sounds like the ideal shopping experience to me. What do you think?

Image via instructables.com
Of course, plaid doesn't always have to be worn. We love this ottoman that was reupholstered by the Mod Home Ec. Teacher on Instructables. (That plaid started out as a pleated skirt at Goodwill!) For under $5, a perfectly sturdy ottoman was given a fresh new look. It's bold, it's beautiful, and in six steps you can make one yourself by following the DIY tutorial!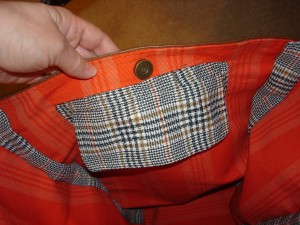 Image via yourgoodwill.org
So maybe you're fond of plaid, but you don't usually wear patterns. Try a secret plaid, like this one from Kirsten Irwin. Irwin is a very crafty customer of Goodwill Keystone Area (Harrisburg, PA) who created a bag from four placemats, a leather skirt, and a men's plaid suit coat! This pocketed purse won Goodwill's Re-Design Contest earlier this year. Check out the winner's interview for tips on creating your own re-designs and to find out why Irwin loves shopping at Goodwill.
The next time you're sweeping through the aisles of your local Goodwill store, I encourage you to imagine all of the possibilities that each item may provide. If you're drawn to a certain item because of its pattern, although it may not fit you as it is, bring it home anyway and see where your imagination takes you! It's surprising how many different ways there are to wear, carry, and display plaid (or whatever pattern appeals to you). Don't hold back!