With all that is happening these days, it sure seems that, "what the world needs now is love, sweet love," as well as peace and unity as we move forward as a country. Here are three DIY projects, for varying levels of skill, to inspire your creativity and a sense of community.
1. "We Are One" Bench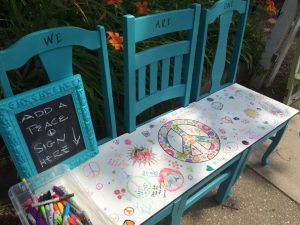 Supplies: Three wooden chairs, plywood, scrap wood, long bolts and nuts, drill, jig saw, wood screws, paint, wood glue, saw, colorful paper, Mod Podge, press-on letters, polyurethane
Time: 10 hours, not including Mod Podge glue drying time
Cost: Approximately $40
Here's How:
Stop by Goodwill to find three mismatched, wooden side chairs.
Remove the seats, then give the chairs a fresh coat of colorful paint to make them look like a matching set. Use several coats to ensure full coverage of all sides and edges.
Once dry, line the chairs up side by side.
Drill holes between each side-by-side seat, then insert bolts and secure with nuts to connect the chairs.
To provide extra support, cut pieces of scrap wood and place them in the gaps between the chair seats and secure with wood glue.
While drying, measure your plywood, which will become the bench seat.
Cut the plywood and put into place, knowing you will likely need to cut out notches where the chair backs meet the wood so the bench seat fits around them.
Secure the plywood in place with more wood glue and wood screws.
Paint the bench seat white (or any other light color of your choosing), and paint the edges in a contrasting color for added visual interest.
Using colorful craft paper, cut out a large peace sign.
Place the peace sign in the center and glue in place with Mod Podge.
Write the words "We," "Are," and "One" to the seat backs of the chairs using press on letters/decals. If you have nice handwriting, you could also paint on these words with a fine paint brush.
Once the lettering and peace sign dry, spray on a coat of semi-gloss polyurethane to protect the bench from water, dust and fingerprints.
Set the bench out in your community and invite neighbors to add messages of love to the seat.
2. Organic Peace Sign: Mother Earth & Moss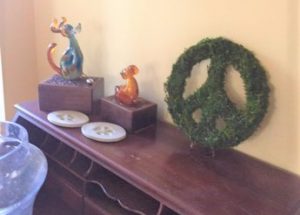 Supplies: Wooden peace sign (or create your own with wood, jig saw), craft moss, glue gun
Time: One hour
Cost: Aproximately $20
Here's How:
Pick up a pre-fab, cut out peace sign from your local Goodwill and a bag of green moss from the craft store.
If you can't find a pre-cut peace sign, you can pick up a frame or piece of art from Goodwill, trace a peace sign onto it, then use your jig saw to cut it out.
Secure pieces of moss to the peace sign with hot glue, covering it in vibrant green.
Add a picture hook to the back and hang it up as a reminder of how you want things to be!
3. A Sign of Love: Spell Out Words with Unexpected Items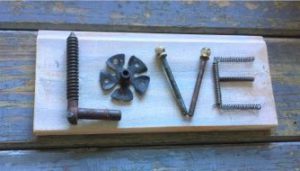 Supplies: Scrap wood pieces, various household items for letters (like screws, hinges, etc.), epoxy glue, paint
Time: 45 minutes, not including paint drying time
Cost: Approximately $4 each
Here's How:
Pick up a frame or piece of artwork from Goodwill and cut it down to approximately eight to ten inches long. This will become your canvas on which to add items to write out the word "LOVE." You can either spray paint it a flat color, or leave it as it was found for a more eclectic look.
Look around Goodwill to see what things you could repurpose as letters. Old bolts, small springs, a compass, wooden trim pieces and more can all spell out the word LOVE.
Use epoxy glue to secure your letters in place, add a hook and display it in a place for all to see. You will feel happy each time you walk by your upcycled sign.
Feeling inspired? Head over to your local Goodwill to get the supplies you need to inspire love and unity in your world.
This blog was originally posted on Goodwill of Greater Washington's Finding Your Good blog. Check out the original, which features many more images for inspiration.